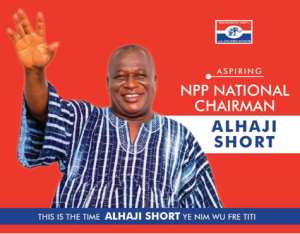 It has come to our notice that a statement purporting to come from Alhaji Short announces his withdrawal from the national chairmanship race of the NPP. This statement is spreading as fast as wildfire on social media.
On behalf of Alhaji Short, we wish to inform all members, supporters, and sympathizers of the NPP home and abroad, in particular, and the Ghanaian public, in general, that this statement does not come from Alhaji Short or his team or any person or body or group known to him or his team. Nor does it come from any person or body or group known to anybody or group known to him or connected to him in any way.
That statement is false. That statement is malicious, as it seeks to derail the national chairmanship campaign of Alhaji Short. Therefore, it should be disregarded. In fact, it should be treated with the contempt it deserves.
Our democracy allows for the people - the delegates of the NPP in this instance - to decide upon whom they see as best able to serve the interest of the party. As God wills it, Alhaji Short will submit himself to the contest of the national chairmanship election of the NPP to be held in June 2018.
Thank you!!! PRINCE ANUWAR-SADAT AMADU (General Secretary) National Youth for Alhaji Short (NAYAS) For: ALHAJI ABUBAKARI ABDUL-RAHMAN (ALHAJI SHORT)
Upper West Regional Chairman & National Chairman Hopeful