Kufuor Has Foreign Offshore Account -Yazji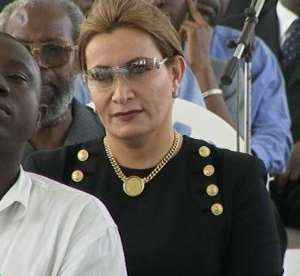 The lady who is at the centre of the "Hotel Kufuor" saga, Madame Giselle Yazji, has dropped another bombshell.
In an interview with Radio Gold's Roland Acquah-Stevens in which she mounted a blistering attack on the Managing Editor of the 'Crusading Guide' editor, Mr Kweku Baako Jnr, Madame. Yazji said she knows of all of President Kufuor's bank accounts outside Ghana and all the offshore companies that the President and his children have formed since he came into office.
Clearly incensed at a teaser in the 'Crusading Guide', which had threatened to expose her in a tape recording in which she was pretending to be a baby sitter to a Ghanaian journalist, Madame Yazji implied that the 'Crusading Guide' editor was quite capable of forging such a tape because he was not known as "Mr Documents" for nothing, claiming that Mr Kweku Baako could provide any forged document that anyone wanted.
Madame Yazji recalled that the 'Crusading Guide' has published a forged picture of herself with a former NDC Minister of Finance behind her, when in fact that picture was taken at a September 2002 Press Conference that President Kufuor had at the Castle, Osu and the NDC Minister was not present.
According to her, she was the only one-press person present at the event, yet that picture had been doctored and the NDC Minister craftily inserted into it.
Madame Giselle Yazji said she did not talk about President Kufuor's foreign bank accounts and offshore companies before the elections because she had never wanted to destroy the President. Yet, "I know what he did in Switzerland and I know what he signed in Switzerland", Giselle Yazji added.
Madame Yazji repeated her threat to take all her documentation to "International Transparency" and issued a new threat to sue Kweku Baako Jnr and have him put in jail because, according to her, "he is a crook, he is a liar".
'Ghana Palaver' hopes to publish the verbatim account of the explosive interview in our next issue.