Alhaji Short Congratulates NPP For A Successful Polliing Station And Electoral Area Elections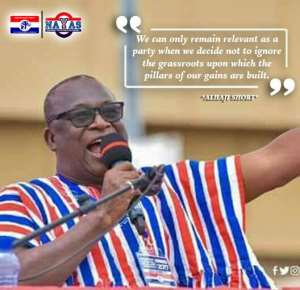 I wish to take this opportunity to say a very big thank you to all party faithfuls, our party elders, patriots, and all committees who took charge in making our polling station executives and electoral area coordinators election a success across the country.
Ensuring the electoral fortunes of our party lies on these various positions, these processes determine the outcome.
So I want to say a very big thank you to all for being there always for the party when duty called.
We may have our disagreements as individuals but in the end it is the unity of the party that matters most. Let us therefore put much focus in what will unite us as a family and not in strict justice which may divide us.
I therefore want to congratulate all those who won and to plead with all who couldn't make it through that you have not lost, but the party won. Let's therefore remain peaceful and focus in sharing the ideas we would have used to ensure a successful lead in our party like we have always done to ensuring that the elephant family builds a formidable front. And that our path to winning many more elections becomes clearer because that is the very reason for which these internal elections are conducted.
I also want to use this opportunity to wish every other constituency and regional aspirants well in their bids to lead and serve this great party of ours.
God Bless Ghan!!!
God Bless NPP!!!
God Bless Us All!!!
Thank You.
_Signed_
Saani Ibrahim (Baba Waala)
Deputy General Secretary
National Youth for Alhaji Short (NAYAS)
For: Alhaji Abubakari Abdul-Rahman (ALHAJI SHORT)
(U/W Regional Chairman and Aspiring National Chairman)