Holocaust Should Remind Us Of The Value Of Peace--UNIC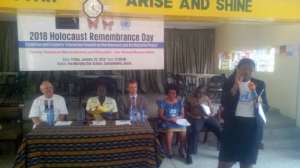 Ms Cynthia Prah, the National Information Officer for the United Nations Information's Centre (UNIC), says that the commemoration of the Holocaust should remind Ghanaians and the world, of the value of peace.
She said Ghanaians and the rest of the world must learn from the horrendous events of the Holocaust as it is remembered around the world today so that it is not repeated.
Ms Prah said this at the 2018 Holocaust Remembrance Day- Exhibition and Students Interaction Session on the Holocaust and the Butterfly Project.
The event which was held under the theme, Holocaust Remembrance and Education- Our Shared Responsibility, took place at the Morning Star International School in Accra.
The event saw students of Morning Star been educated on the sad events of the Holocaust and engaging them in dialogue sessions aimed at purging them of thoughts of discrimination.
Ms Prah in an interview with the Ghana News Agency said the UNIC chose students for the commemoration because; the right time to instil the sense of tolerance, responsibility, love and respect students was in their youth.
'This is the moment that we need to instil in them these values because when we are all grown up, changing their mind set sometimes is very difficult.
'So for us at the UNIC, this day is one of the global days that we create that kind of awareness for us to be able to appreciate individual differences and embrace each other,' she added.
Ms Prah also urged Ghanaians to respect anyone and each other regardless of where they came from.
Also present at the event was Mr Ami Mehl, the Israeli Ambassador to Ghana, who encouraged students to not live their lives as victims but rather live to realize their dreams.
He appealed to the students to aspire to reach their potentials irrespective of whatever horrors they face in life.
Hans-Helge Sander, the Deputy Head of Mission for the Embassy of Germany in Ghana, told students to learn to say 'stop' to acts of discrimination of any kind be it colour, race, religion and ethnicity.
Mr Mawuli Avutor, the Deputy Director of Public Education for the Commission on Human Rights and Administrative Justice (CHRAJ), said that the holocaust caused a lot of financial depression not only to the German nation but the world hence the need to put a stop to racism.
He also told the students that, dreams could change at any time based on what one experienced, but as future leaders they should not allow racism to change their dreams.
The Holocaust was a genocide which took place during World War II in which Adolf Hitler's Nazi Germany systematically murdered some six million Jews, about two-thirds of the total Jewish population of Europe at the time.
The UN has set aside January, 27, as a day to remember those who lost their lives during that scary period.