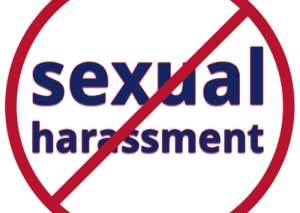 In Ghana, Sexual harassment appears to be ubiquitous in most Junior and Senior High Schools of late. Just recently, a headmaster in the Central Region was caught on video copulating with a female student on a kitchen stool. The said video went viral after it was leaked. This trend seems to have taken a new turn.
But as the popular 'Eneke', the bird says "since men have learned to shoot without missing, he has also learned to fly without perching on a twig." Perhaps this is what happened to a teacher in an unknown school in Ghana. The teacher had the shock of his life after a female student and her cohorts scoffed at him on a phone while recording after he tried to lure the student into having sex with him.
The 9 minutes 35 seconds audio went viral on social media after the lady in question recorded the conversation with her friends. The student was heard ridiculing the teacher with her friends in the conversation. It is, however, not clear who serialized the recording.
The teacher apparently gave the student, only known as Dorcas GH₵30.OO (₵300,000.00) in an attempt to woo her to enable him to satiate his libido. Unfortunately, it didn't work as planned. Peeved by the student's behavior, the lascivious teacher threatened to teach Dorcas the lesion of her life after she refused to accept his sexual advances.
Petrified by her teacher's threat and sexual harassment, Dorcas decided she would report the incidence to both the headmaster and his assistance to pre-empt the imminent danger.
"What came to your mind? What happened that you want to tell Headmaster"? The teacher probed.
"Ah, but you told me that the relationship is going to be terrible, and time will also tell, and I don't understand why all these things should happen. That is why I said I am going to tell headmaster because I am scared. In case anything should happen to me, he should be aware that is what you did to me or that is what you were thinking to do to me and I refused and you tell me this thing…"
Obviously not bothered by her student, the teacher encouraged Dorcas to "go ahead and tell them, no problem". Moreover, he counseled the student to tell the headmaster the money he gave to her, oblivious to the fact that the student had put the call on loudspeaker while recording with her friends.
According to the student, she never requested for any monetary assistance from the teacher. It was given to her at will and she also spent it. "I didn't request your money. Did I request it? Did I tell you that master, give me money?" She retorted.
"You, yourself gave me the money and I also spent it. Even as at now if you give me money I will spend it because I didn't request for money." She harangued.
Visibly irked by his student, the teacher indicated he was willing to appear before both the headmaster and his assistance should he be summoned. "If you go, I will also come. If you think you are smart, I will let you know that you are nothing before me." He bragged. "You think that whatever you are doing on campus, they are not aware?" he continued.
This, however, did not go down well with Dorcas who threatened to reveal "everything from head to toe so that they will be aware of everything."
"I did nothing, I am dating someone and he is Majid. ….what have I done? I am not dating a master. I respect myself a lot to date, my master." Dorcas is heard exchanging words with her distraught teacher.
"I know I am nothing. You know I am nothing but you were trying to….. I know. Why did you give me your money? You wanted to have sex with me then you gave me your money, but I am not such girls." She continued.
It was at this point that the teacher realized he wasn't only talking to Dorcas but a stadium full of girls. This sent a cool blood down his spine. "Oh ok, people are there and you are talking and laughing?"
This nonetheless, didn't push Dorcas one bit as she continued to recount the sexual harassment. "I know I am nothing but I will not give myself to you. Ok?"
I don't even need you? The teacher seems to have licked back his own vomit. The banter continued.
"Master, let me tell you 300,000 can never buy my vagina. Ok? My vagina is so expensive that money can never buy it unless love."….do you think that 300,000 can get a vagina? 300,000 can never buy vagina, only love. So, me I don't sell my vagina; 300,000?"
This rendered the teacher speechless. "Alright, I am listening. You have done what you want to do, right?" Whereas Dorcas was on a repartee of words with her teacher, some of her friends were heard behind loudly laughing and deriding the teacher, while others were cheering Dorcas on.
"I didn't do anything. Master, you even insulted me. Why should you insult me that I am stupid and foolish just because I refused to give myself to you? Don't you have a wife? Even if your penis is worrying you, you should go to your wife and tell her that your penis is worrying you. So she should let you have sex. You don't have to come to your student just because you gave me 300,000. You want me to give myself to you? In fact, I am going to tell headmaster…" "How can you have sex with a foolish girl? Foolish vagina, aaargh!"
It is, however, not clear where or which school in the country the drama took place.
Audio file attached.