Youth Training Institute In Akatsi South To See Facelift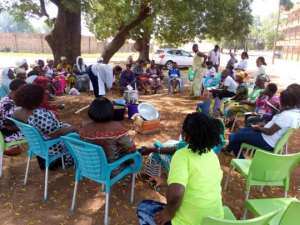 The Youth Leadership Training Institute (YLTI) at Avenorpeme in the Akatsi South District has been earmarked for a major refurbishment and expansion estimated at GH¢ 6.8 million.
Modern units of classroom and dormitory blocks, kitchen and a dining hall, an assembly hall, offices and staff bungalows are to replace the decades-old termite-infested wooden structures currently housing the facility.
Mr. Leo-Nelson Adzidogah, the District Chief Executive (DCE) said at a press briefing to highlight development landmarks chalked last year and the medium term plans to open up the District for accelerated development.
He said investments in the Youth Training Institute was to re-position the facility to offer young people opportunity to acquire quality employable skills to expand the local economy.
The DCE said educational infrastructure projects, made up of boreholes, school blocks and teachers bungalows have been completed at AKAST, Akatsi, Wute, Logote, Ayitikope, Agornu-Kporkplortey and Dagbamate.
A total of 35 six-unit and three-unit school blocks, 100 boreholes and 20 CHPS zones, he said were slated to be done in the area next three years.
He said the Akatsi Market would be modernised and managed under a Private Public Partnership to improve revenue collection with the development of the Xavi bird sanctuary into an eco-tourism centre.
The DCE said the Akatsi town centre mini market and car terminal would also be relocated to the main market to activate a daily market and trading activities for an all year-round commercial activity.
Mr Adzidogah said sod would be cut in March this year for the commencement of work on a new Assembly Complex at a strategic location with enough office space to accommodate all government agencies to improve coordination and supervision of policies and programmes.
He said the new Assembly Complex project was in line with efforts at elevating the Assembly to a Municipal status.
Mr. Adzodogah said the Assembly settled huge energy bills, scholarship and salary arrears amounting to thousands of cedis left by the past administration.
Some youths at the meeting demanded an investigation into the whereabouts of a grader acquired by the Assembly a few years ago to fix the deplorable feeder roads to ease rural transportation.
GNA
By Dominic Adoboli, GNA