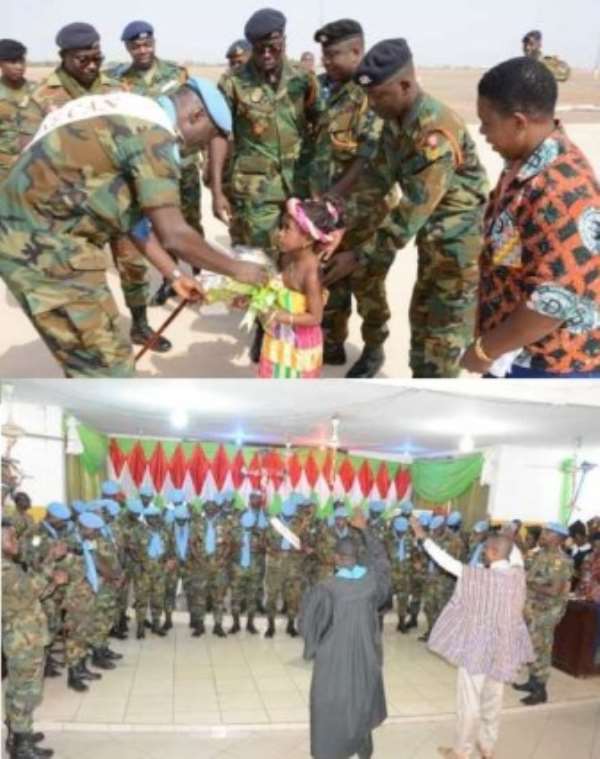 Forty-three soldiers comprising seven officers and 36 soldiers drawn from the Six Infantry Battalion in Tamale, who went for a year's peacekeeping mission in the Democratic Republic of Congo (DRC), have returned home.
The military aircraft carrying the soldiers touched base at the Air Force Base in Tamale on Sunday where elated spouses and relatives of the soldiers gathered to welcome them home after a successful mission in the DRC.
They were chauffeured to their base, Kamina Barracks in Tamale, where a victory church service was held for them at the Methodist Presby Church where prayers of commendation were said for them to strengthen them to continue to distinguish themselves.
The soldiers formed part of the 416 battalion drawn from various military camps in the country, who left the country on January 13, 2017, for the United Nations Organization Stabilization Mission in the DRC (MONUSCO) GHANBATT 13.
They all returned to Accra yesterday, January 20, 2018.
Lieutenant Colonel (Lt Col) William Kwabiah, Commander of the MONUSCO GHANBATT 13 thanked God for how far He brought them as well as expressed to the battalion saying they were the pillar behind the success of the mission.
Lt Col Kwabiah said 'the year was a challenging one but I had a rare experience of seeing soldiers, who were very dedicated, very professional, very loyal with a high sense of integrity, who comported themselves given the odds there.'
He said 'I want to assure you that we have come in full strength to continue the agenda of making sure that we leave the Unit a better way than we met it and we need the cooperation of all of you.'
He said the successful mission in the DRC would not have been possible if the battalion did not have peace of mind back home expressing gratitude to their spouses, other commanders, officers and men of the Unit for holding the fore in their absence.
Meanwhile, a thanksgiving and religious church service for the MONUSCO GHANBATT 13 has been scheduled for next Sunday where some officers and men from other military units will attend to formally welcome the battalion home.