NUGS Inaugurates Research Desk; Promises To Reawaken Union In Proactively Servicing Youth And Students Of Ghana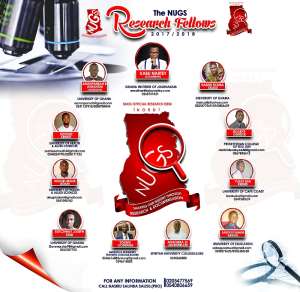 The National Union of Ghana Students(NUGS) has inaugurated an 11-member Research Committee (research desk) at the just ended maiden Central Committee(CC) meeting held at the University of Agricultural and Environmental Studies(UCEAS),Bunso in the Eastern Region of Ghana.
The research desk hereinafter referred to as the NUGS Official Research Desk ( NORD) which consist of student leaders pooled across the 10 Regions of Ghana is expected to drive the knowledge base of the union for 2017/2018.
NORD is positioned to proactively reawaken NUGS in its vision and mission of serving the best interest of the Ghanain youth and students.
The Committee is chaired by Kabu Nartey, the General Secretary of the Union.
The other members include:
1. Fellow Ananpansah B Abraham | University of Ghana (Secretary of NORD) .
2. Fellow Abugri Malik Adam | University of Health and Allied Sciences.
3. Fellow Sodoke Ernest | University of Health and Allied Sciences.
4. Fellow Nasiru Silinba Salisu | University of Ghana
(P.R.O of NORD).
5. Fellow Boakye Derrick | Presbyterian College of Education,Kibi.
6. Fellow Botchway Joseph Star | University of Ghana.
7. Fellow Young Courage | Nurse's and Midwifery Training College, Korle-bu.
8.Fellow Yussif Ben Kudus|University of Cape Coast.
9.Fellow Sabogu Samini Samuel |University of Education,Winneba.
Members of the committee were selected through a pre-sitting vetting after a review of online application.
NORD has the core mandate of seeing to the correspondence,literature research,research review,rappoteu,recommendations for project evaluation,writing of reports,fact finding inter alia of the union.
It is also expected to organize the publication and documentation of the first ever Emergency Intervention Programme of NUGS,the nationwide outreach in S.H.S affected by the outbreak of swine flu and meningitis.
The task is to drive the needed knowledge and intelligence to aid the union serve the needs of the Ghanaian students at best as well as shape the Union's history through documentation.
It is worthy to note that the NORD has already published a research brief about the role of student activism and youth democracy in Ghana as part of the Union's commemoration of 25 year's of Ghanas Republican status early this month.
The desk is poised to generate more of such research papers in the interest of the Ghanaian students and youth as well as create a repertoire for the history of the Union.
Signed:
Fellow Ananpansah B Abraham,
The NUGS Official Research Desk ( NORD)
(Secretary)
Contact:0241129910 // [email protected]
Fellow Kabu Nartey,
NUGS General Secretary
(Chair ( NORD))
Contact:268751831// [email protected]