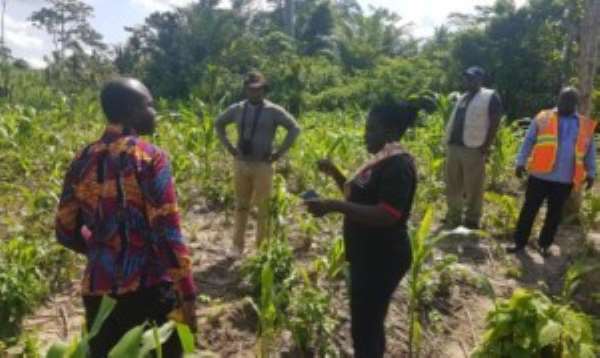 Mr Delali Nutsukpo, the Greater Accra Regional Director of the Agriculture, has said it is untrue that the Fall Army worm outbreak was developed in foreign laboratories.
He said as far back as 1797 in Georgia USA, the worms were discovered and was only known to that part of the world until their recent migration to southern and lately West African countries.
Mr Nutsukpo said 'the pest has come to stay, and we only have to put in place interventions and programmes that would control their rate of destruction and ensure food security in the country'.
The Director was speaking during an engagement by the Department of Agriculture with the Media on 'Reporting on Fall Army Worm' for Journalists from the Volta, Central, Greater Accra and the Western Regions to deepen media knowledge and ensure accurate reporting on the matter.
The Fall Army worm canker became an area of concern in 2016 and 2017 where large tracts of farmlands particularly cereals were destroyed by the worms.
It is a migratory moth which could attack about 80 species with its larvae, but in Ghana, the pest had become a maize threat to food security because they are largely found in cereal-maize which could be harvested and stored for a longer time.
The government therefore set up the national task force to find ways and means of controlling the situation.
Dr Nii Okai Hammond, a member of the National Taskforce, said the team together with the Ministry was working to ensure that insecticide distribution was fairly carried out, capacity of the farmers built on early detection and management as well as regular monitoring.
So far, three pesticides have been discovered to effectively control the fall army worm and would soon hit the market for farmers to use.
Dr Sagre Bambangi, Deputy Minister of Agriculture, said it is important to create awareness on the pest infestation especially this cropping season and also educate farmers on the concern.
He said the Ministry was implementing a strategy for the 2018 cropping season by strengthening the national pests surveillance system, conduct research into the biological control and establish a strategic stock of pesticides in the regions.
GNA
By Mildred Siabi-Mensah, GNA