Education report shows progress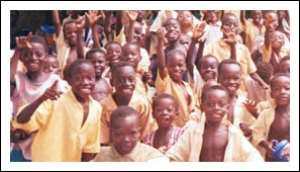 Accra, July 29, GNA - The 2005 Preliminary Report on Education Sector performance indicated progress towards achieving the aims of the country's Education Strategic Plan (ESP). The Report showed that primary gross enrolment rate had increased from 86.3 per cent to 87.5 per cent between 2003/2004 and 2004/2005, Ms Elizabeth Ohene, Minister of State in charge of Tertiary Education, said on Thursday.
Ms Ohene, who said this at the Second Annual Education Review Meeting, with development partners and other stakeholders, to assess the performance of the Sector over the past years said, however, that the figure slightly fell below the 2004 - 2005 target of 88.5 per cent. She said that the gender parity index also remained at 0.93 in spite of the impressive achievement so far on girls' education particularly in the three Northern Regions and some deprived districts.
Ms Ohene said all the relevant information had not been received yet but the anecdotal evidence and the unscientific evidence from visits in the urban areas pointed to some interesting developments. In many urban schools there is gender parity in the first three years of primary school but from the fourth year, the boys start dropping out and by Primary 6, the difference was clear, she added. She said it was in the effort at attaining full access to basic education that a capitation grant scheme was being implemented in 53 deprived districts at the cost of 28.5 billion cedis. This would be extended nationwide at a total cost of 113 billion cedis.
Ms Ohene indicated that the pupil to teacher ratio at the primary level for all districts increased between 2004 and 2005 indicating that teacher numbers were not keeping with enrolment. The percentage of trained teachers at primary and JSS level fell in 2004/2005 to 72.4 per cent and 83.5, respectively. She said 61.3 per cent of students attained an aggregate of six to 30 required for admission to second cycle schools while 64 per cent of those, who wrote Senior Secondary School Certificate Examinations passed in six to eight subjects, adding that total enrolment in technical and vocational educational training increased from 18,672 in 2003/2004 to 21,424 in 2004/2005, thereby exceeding the target of 20,000 students. She announced the development of a national assessment system to comprise a national education assessment; school education assessment and continuous assessment for implementation by the end of 2005. She said teacher-training colleges were being transformed to eventually become part of the tertiary system with graduates receiving a diploma in education, adding that qualitative and quantitative improvements were envisaged to train 100 per cent teachers by 2025.
Minister of State said the Ministry would open up opportunities for teachers to upgrade themselves and acquire degrees, especially through the distance-learning programme. She indicated that decentralisation was key to improving the efficiency of education management and services as it would enable planning, prioritisation and implementation to be directly influenced by and be responsive to the local needs and priorities of students, parents and communities.
The Ministry would give priority attention to the establishment of an inspectorate division outside the Ghana Education Service, an autonomous and independent body, to operate under the Ministry of Education. Ms Ohene said in order to improve the system's efficiency, strategies such as tracking contact hours in school would be put in place to address repetition and drop out rates, which were the results of teacher absenteeism, insufficient use of the allocated school time and comparative short time on task.
On financing the proposed reforms, she said 5.4 trillion cedis was projected for 2005 and by 2015 total recurrent expenditure was projected to rise to 9.8 trillion cedis out of which 32.4 per cent would go to primary, 53 per cent to basic, 20 per cent to SSS and 1.6 per cent to Technical Vocational Educational Training. She said in summing recurrent and capital expenditure and considering the expected total resource inflows, the total funding gap of 575 billion cedis or 65 million dollars in 2005 under the ESP financing plan was expected to be 530 billion cedis or 60.2 million dollars in 2015.
The gap, according to her was expected to increase from a total of 733 billion cedis in 2005 to a total of 2.9 trillion cedis or 333 million dollars and closed through a combination of efficiency savings, cost recovery measures and increasing levels of commitments from the government of Ghana and development partners. She said the Sector was in a challenging period of its development, because the reforms affected all levels of the education and would require innovative and inventiveness in the mobilisation of all resources both human and financial as well as the participation of all stakeholders in order to realise the objective.
There would be the need to attract increased level of external funding, including increased levels of support from the private sector, adapt cost-recovery strategies and also look to improve efficiency in education delivery to meet the increasing resource needed, adding that cooperation and dialogue between government, private sector, development partners and all stakeholders would drive forward reform process. Mr James Afranie, Director Planning Budgetary, Monitoring and Evaluation, said the review should examine the effectiveness of existing strategies and how they could be optimised and should also assess the need for new policies and strategies, which could be considered and incorporated into subsequent ESP among other things.