Miss Ghana to fight guinea worm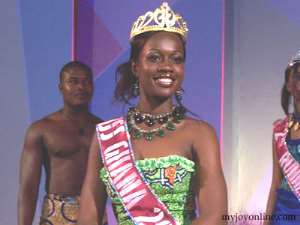 Accra July 28, GNA - Lamisi Mbillah, LG Miss Ghana 2005, on Thursday said eradication of guinea worm in the country would be among her major concerns during her reign as Miss Ghana. She said guinea worm thrives where ignorance, poverty and lack of potable water supply prevailed hence the need to educate the affected communities about the dangers of the infection and the need to prevent it. Lamisi, flanked by Ursula Neequaye and Maame Efua Anane Darko, the first and second runner up, respectively, was speaking at a press conference to announce her plans that would help her to contribute her quota to national development.
She said: "As an ardent believer in 'prevention is better than cure' and my desire to become a Public Health Specialist, my reign would take me to the worse affected communities to support the campaign aimed at reducing the burden of the infection".
Tolon Kumbungu, West Gonja, Tamale, Tatale, in the Northern Regions; Wa in the Upper West Region and Nkwanta in the Volta Region, were the areas Lamisi said would be her focus.
Advocacy for the provision of potable water through the provision of boreholes and wells and educating infected people on the need to avoid contaminating water bodies are some of the activities Lamisi said would help to eradicate the infection in endemic areas.
Education, she said was the backbone to eradicating the infection, saying "if the infected person understands that he infects more people by stepping in water bodies and that it is not witchcraft that makes them suffer the disease, they will take steps to prevent it". Guinea worm, she said contributed to increase in school dropout in affected areas because of the physical debilitation a patient suffered. Lamisi also said she would continue with the Don Bosco Street Child Project at Ashaiman, started by her predecessor by helping to build a girl's hostel for students. The project aims at providing shelter and care for street children and the less privileged in society.
The Don Bosco project has provided hope to many street children, orphans and the less privileged, she said and the girls hostel to be constructed at Ahsaiman would cater for the socially challenged girl child.
The Ghanaian beauty queen called on nongovernmental organizations, civil society organizations and health organizations to support her in the quest to raise money for the success of the programmes.