Government must tame Rev Father Anthony Afful-Broni and UEW Council Chairman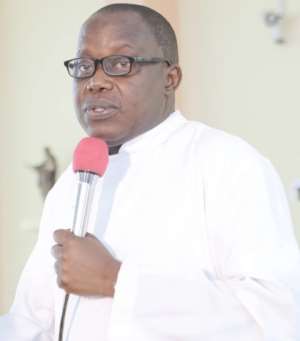 I have written much on the activities of these two personalities - Rev Father Anthony Afful-Broni and Emmanuel Nicholas Abaka. Everything I wrote is verifiable. The latest is their intimidation and victimisation of staff who oppose them. One junior lecturer called Alhassan Bawa has wriitten defamatory things, insults using disgraceful English. He published such thrash here on modernghana.com. Afful-Broni never called him to adder or caused a committee to investigate him. He and the Council Chairman went ahead to reward Bawa with an appointment. Yet these people have the audacity to.set up.committees to investigate people who wrote re-joinder to those articles? I hear they forces Epiphany Agbesi to retract his re-joinder? I see it here on modernghana.com today. Well, a further testimony of what I have been writing. Those who doubt my writings now have their proof.
In this short piece I seek to let Ghana know that Afful-Broni and Abakah are the cause of the looming dangerd in UEW. The last time we had matriculation this week, the numbers were nothing to talk about. Lecturers did not even know of it. Mamy people in the university community did not hear of it.
We are watching as UEW is collapsing. Government needs to act quickly. Nothing is working in UEW since this two guys decided to begin their lies and viscious scheme. UEW is a public institution and must not be allowed to be destroyed by the selfish intwrest of Rev father Anthony Afful-Broni and the Coumcil Chaiman Emmanuel Nicholas Abaka. The institution that trains teachers cannot be treated that way. No. Never! If government fails, we shall soon rise up our own way. We shall announce that we are not to be taken for granted.
They want to start dismissing people? Well, Afful-Broni and Abakah have gotten the wrong people. Why are they afraid of the right people? We shall meet them at the right side of the river. They will cross. When you drum, there must be dancing. When you shed blood, yours will be shed. When you sacrifice people, you will be sacrificed. A word to Afful-Broni and Abakah and their collaborators. They have some few days to repent. I have not seen such a disgraceful Catholic Priest and an apology of a professors like these two guys.
One small question. Did I hear they asked the contractors to return to site? I hope they know what that means. These hypocrites, telling lies should know that evil will never overcome good. Never. Even their own spirits will condemn them.
We are ready for them now. They are welcome to our domain where They have always wanted to be. They will definitely follow soon to become bedridden. They should prepare. Ameyaw, Kankam and co. Prepare. When the fire starts burning, it will consume everyone that stands on its way. A word to consider. Let all good people in UEW stay clean. The hour seem close for the drummng to start. If you are clean stay clean. If you have been part of the conspiracy to destroy innocent people, think twice. I wish you well because we are now at zero tolerance level. If government fails, we won't disappointed Effutu. We won't disappoint our students who have taken certificates signed by an Acting Vice-chancellor. We won't disappoint those who do not want that certificate signed by an Acting Vice-Chancellor. We won't disappoint academic freedom. We won't disappoint Ghanaians. We won't disappoint our future generations. We won't disappoint and disgrace the teaching profession! We won't let the best lecturers who want to leave UEW go. That's a promise. We would not let it end they way of greedy So called Rev Father Anthony Afful-Broni. Never. This is our pledge to the good and wellmenaning people.
UEW, all shall be well with you.
Eric Appiah
Son of a poor fisherman observing events in UEW
[email protected]