Black And Proud: Straight Outta Shithole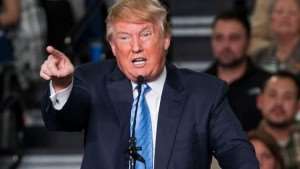 I am one of the few immigrants who have been ranting out since the "shithole" comment was reported to have come from #45. I am still hurt. Yes hurt because I see we either have no pride or have lost our dignity over the course of the years after independence. I may be biased in my rants, because I've been a victim of racism and so I have a preconceived narrative about racists when dealing with them. All the same, to hell with it. What's wrong with standing against evil?
Reading most comments and posts on Facebook and other social media platforms, those who side with #45 do so regardless of the content of the statement because they believe they live in shithole. I have seen people post pictures of bad roads, poor healthcare facilities and so on to make their point. Yes, you have every right to be mad at our leaders, past and present for not doing right by us. You have every right to be mad at our leaders for the current state of the economy and the untold suffering of the citizens of the country.
If you read books on American history and how the country have evolved over the past 241 years, one can simply conclude that they have done well for themselves. That is, if you are watching from afar. Let's take New York as an example, there were shitholes before 1776, and there are still shitholes there in 2018 (assuming we go by pictures used to justify comments by #45). Walking on some part of the streets of Bronx in summer can make you forget for a moment that you are truly in America, nothing seem different from parts of Nima, except maybe, the rats in Bronx are well fed.
Honor/Dishonor
Our ancestors were taken from us to build their country. Then a system was put in place here, called colonialism, where many were brainwashed to believe that the black man is an inferior human being compared to any white man. Unfortunately, that mentality have passed on from generations to date. So when one even have a child they cherish so much, they refer to her as "me broni" (my white person). I am not so against that, as that is one's personal choice. However, what makes me disappointed and angry to the core is when you can't defend the honor of your country. Regardless of how people of color are treated in the USA, you dare not insult or attack their country. They will fight you and defend it. That is honor. We keep reciting the national pledge of Ghana, and have videos making ridicule of people who can't recite it but we forget the part that says "… and I pledge myself in all things, to uphold and DEFEND the good name of Ghana…."
How many of us defended the name of Ghana over the statement made against us? How many of us, especially those of us living in the USA were offended for the fact that a white man concludes that being born in Ghana makes you an unwelcomed person in the US, compared to someone from Norway.
That is where the argument lies. The reason for the ranting is not about what you bring to the table or how your country looks like, rather, where we come from and how the PEOPLE from your country look like.
Ghana, one of the oldest African countries is 60 years compared to America which is over 240 years old. America, at 60 years, made its share of mistakes but has grown to become a country everyone admires. Ghana is still developing day in and day out no matter how slow the development looks. We've had leaders who did wrong by us and stalled our development. We have every right to be angry but we have the responsibility to defend the honor of Ghana regardless.
Who is sitting on the toilet?
If Africa is a shithole, it is because the white man is sitting on the toilet and getting it clogged. Years after independence, our resources are still being plundered and they still use us as guinea pigs to tests their vaccines and other trials because they know they can get some greedy ones amongst us to do their bidding (it doesn't take one person to be corrupt). The black man is not completely free, especially when we can't get on the same page and defend our honor after we've been insulted but rather, we are ready to take that as retaliation to what our leaders did/doing and in the process, please the white man.
The comment by #45 is no way a wake-up call, because we have been awake for long and have been holding elections to get the right leaders to fix our issues.
It was a racist comment and a full throttle insult to what we hold dear as a people, OUR COUNTRY.
Edward Adade
Facebook: @Citizen Kojo Adade.
Minnesota, USA