January 15, 2018
|
Feature Article
Akufo-Addo Is Actually Boosting The Profile Of The NPP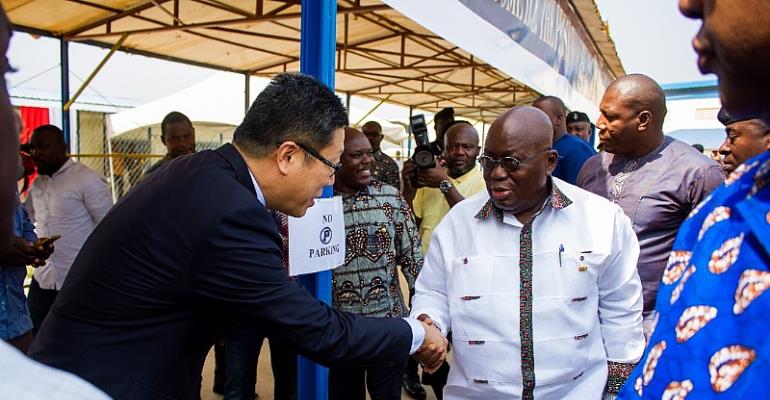 The idea that in appointing Mr. Martin Amidu, a front-row and core ideologue of the main opposition National Democratic Congress (NDC), President Addo DankwaAkufo-Addo could very well be risking the future electoral success of the ruling New Patriotic Party (NPP) is a sexy proposition to only those who envisage politics as a zero-sum game. But in reality, even as Ghana Law School lecturer Mr. Moses Foh-Amoaning poignantly and aptly answers his own riddle, selecting Mr. Amidu as his Independent Special Prosecutor may very well end up becoming the most progressive policy decision ever made by the three-time Presidential Candidate of the New Patriotic Party. And by the way, Mr. Amidu is not the very first Public Prosecutor ever named to the post by any Ghanaian leader. The first Public Prosecutor in Ghana was probably Justice Gyeke-Dako (I could not readily access the records, as of this writing), and the first Ghanaian woman to be named Director of Public Prosecutions was Mrs. Joyce Adeline Bamford-Addo, the former Speaker of Parliament (2009-2013).
If it turns out to be the proverbial Monkey-Wrench, then so be it (See "Akufo-Addo Risking NPP's Future with Amidu's Appointment – Foh-Amoaning" Kasapafmonline.com / Ghanaweb.com 1/14/18). So be it because as we all perfectly know, Nana Akufo-Addo faced greater opposition from within his own New Patriotic Party during all the three times that he was nominated NPP's flagbearer than he had from his most obvious political opponents and detractors of the National Democratic Congress. If the NPP somewhere down the pike, as it were, becomes a victim of the resonant success of Mr. Amidu, then, at least what this would mean is that in Nana Akufo-Addo, Ghana got its most foresighted and genius statesman of its Fourth-Republican dispensation. But first and foremost, such credit would redound to the uncontestable benefit of the party of the man who made the wise choice of having one of his most ardent political opponents become a capstone of his battle against official corruption in Ghanaian society.
For Mr. Amidu, it would be purely an individual achievement with little or absolutely no input from the institutional establishment of the National Democratic Congress among whose leadership he was effectively a persona-non-grata. In other words, the argument here is that if he ever decides to gun for the presidency, Mr. Amidu would have a greater chance of gaining access to the Flagstaff House as an Independent Candidate than as a bona fide operative of the National Democratic Congress. No one should, however, rule out the possibility of party patriarch Chairman Jerry John Rawlings' using the newly nominated Special Prosecutor in the near future as a beachhead for gaining control of the party, at a time when his own daughter and presently NDC-MP for Korle-Klottey, Dr. ZanetorAgyeman-Rawlings, would have become experienced enough and poised towards serving as the running-mate of a then fast-aging albeit distinguished and sprightly Mr. Amidu, or the unopposed flagbearer of the National Democratic Congress.Either way, President Akufo-Addo would have long established himself as the greatest and most astute of the leaders of Ghana's Fourth Republic.
The other quite equally likely political case scenario would be that in another decade or so, the National Democratic Congress, as we presently know it, would since long have collapsed and been replaced by the political party that would have been founded by Mr. Amidu, whose name and working modalities may very well presently be in its embryonic stages.
*Visit my blog at: kwameokoampaahoofe.wordpress.com Ghanaffairs