B5 Plus Marks Indian Cultural Event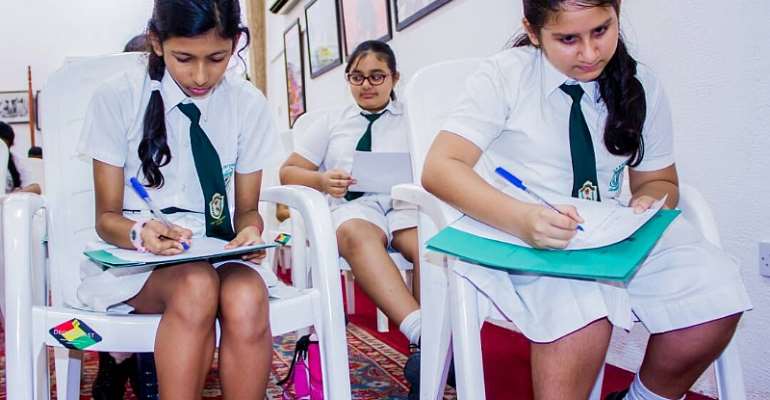 STEEL AND iron rods manufacturer, B5 Plus Company Limited, has joined hands with the rest of the Indian communities around the globe and the Indian government, to commemorate two significant Indian cultural events.
On Wednesday, January 10, 2018, officials of B5 Plus Company, students, teachers of Delhi Public School International (DPSI) Ghana, rallied at the Indian High Commission in Accra, to celebrate Pravasi Bharatiya Divas (PBD) and Hindi Diwaysi.
The colourful ceremony graced by the Indian High Commissioner in Ghana, Birender Singh Yadav, had poetry recitations, singing and dance performances from the students, as part of the celebrations, amid applause and cheers.
Pravasi Bharatiya Divas is annually commemorated on 9th January to recognise the contribution of Indians domiciled overseas to the development and growth of India.
The choice of January 9 for the celebration of PBD, explained Mukesh Thakwani, Chairman of the B5 Plus Company, was based on the fact that it was on that day in 1915 that Mahatma Gandhi, believed to be the greatest Pravasi, returned to India from South Africa and led India's freedom struggle that changed the lives of Indians forever.
PBD conventions are therefore held yearly to build a strong bond between the Indian Government and Indian nationals living abroad.
Mr Thakwani, addressing the audience, stressed that the contributions of Diaspora Indians to the economy of India has been tremendous over the years, hence, deserved to be honoured with a celebration like the PBD.
According to him, the Hindi Diwaysi is a celebration aimed at promoting the Hindi language among global citizens.
"Hindi is the most spoken language in the world and, of course, we try to promote the language," Mr Thakwani concluded.
The High Commissioner seized the opportunity to thank Indians in Ghana and around the world who are making enormous contributions to their country's economic and social growth.
He particularly thanked Mr Thakwani whose B5 Plus Company and DPSI have been an epitome of unity among Indians living in Ghana.
About B5 Plus
B5 Plus Ghana Limited was established about 15 years ago with corporate headquarters in Tema, and was initially importing steel and iron from Cote d' Ivoire and South Africa but has grown to the stage where it now exports to other countries.
B5 Plus Limited operates in all the 15 Economic Community of West African States (ECOWAS) nations.
The company's principal product is steel products which come in seven major categories: Mild Steel, High Tensile & Iron Rods, Galvanized Products, Stainless Steel, Marine & Mining, Roofing & Nails and Concrete & Fencing.
Its vision is to become the world's steel industry benchmark through the excellence of its staff, its innovative approach and overall conduct.