Our Leaders Are Being Superficial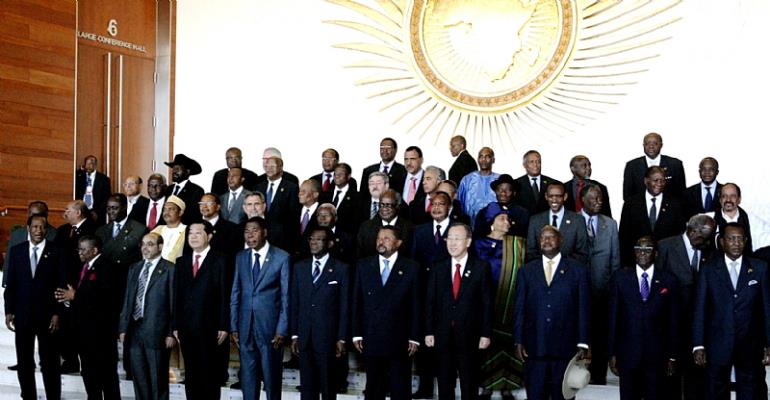 Following a published report in the Washington Post that at a meeting with bipartisan senators and congressional representatives at the White House on Thursday, January 11, during a discussion on immigration issues, President Donald John Trump had virulently decried his perceived influx of the United States by non-white people from "Shithole Countries," African leaders sharply reacted to Mr. Trump's remarks. Among others, the American leader was reported to have said that all Haitians have aids and therefore were not welcome to the United States, while Nigerians were hut-dwellers who, once they got a good taste of American Civilization, were unwilling to return to their home country. Salvadorans were also dumped into the mix. For Mr. Trump, non-European people were to blame for the perceived socioeconomic and technological regression of the United States.
In Ghana, President Addo Dankwa Akufo-Addo was widely reported to have tweeted his riposte as follows: "The language of US President Donald Trump that the African continent, Haiti and El Salvador are 'Shithole Countries' is extremely unfortunate. Ghana is certainly not a 'Shithole Country.' We will not accept such insults, even from the leader of a friendly country, no matter how powerful" (See "Ghana Not 'Shithole'; You Can't 'Insult' Us – Akufo-Addo to Trump" Classfmonline.com / Ghanaweb.com 1/13/18). The fact of the matter is that President Trump used the fetid and obscene metaphor of a "Shithole" – which could either mean the anus or an outhouse – that has predictably and embarrassingly been taken literally by many a Third-World leader, especially those on the African continent, which I find to be rather sad and tragic.
You see, the issue at stake here is squarely and fundamentally one of human rights. There is a tired old maxim that: "In order to hang a dog, you first have to give it a bad name." And that is precisely what the second-generation Scottish-German American President just did. The sharpest and swiftest response ought to have been one ineluctably based on the bare and gritty facts of U.S. History, which is that the greatness and genius of Modern American Civilization is squarely and inescapably predicated on at least 300 years of the massive enslavement of West Africans by Western Europeans. One only needs to read Judge Leon Higginbotham's landmark historical and legal classic titled In The Matter Of Color to swiftly and roundly dismiss Mr. Trump's all-too-farcical arguments. And by the way, the late Judge Higginbotham attended the University of Pennsylvania in 1944, when American society was legally segregated and the now-President Trump was not even yet a sperm in his late father's genitals, let alone his mother's womb. And Judge Higginbotham was summarily denied campus housing.
And for good measure, the interested reader could also pick up Lerone Bennett Jr.'s equally classic and authoritative disquisition on the subject of the making of Modern American Civilization titled Before The Mayflower, or Kenneth Stampp's The Peculiar Institution. In other words, the so-called Shithole Countries referred to by Donald Trump have far more to do with the making of contemporary American Civilization and Culture, as the world presently knows it, than any other countries or nationalities. In short, there is very little that is Norwegian or Scandinavian about the seminal development of American History and Culture. And even as we write and speak, American History is fundamentally a mongrelized and fairly equal combination of continental African and Western-European cultural values underlain by their indigenous or Native-American antecedents. This is how the argument ignited around the controversial Neo-Nazi remarks of Mr. Trump ought to be framed.
The truth of the matter is that America was never white from its inception. It was a consistent combination of Brown/Red-White-Black, and then Yellow and all the other shades amidst the preceding basic three colors.
*Visit my blog at: kwameokoampaahoofe.wordpress.com Ghanaffairs
By Kwame Okoampa-Ahoofe, Jr., Ph.D.
English Department, SUNY-Nassau
Garden City, New York
January 13, 2018
E-mail: [email protected]