Nana B, The Best National Youth Organizer To Handle NDC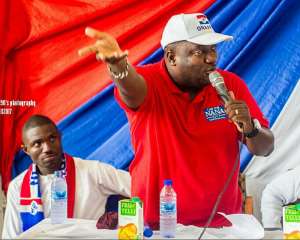 Henry Nana Boakye; wherever you are today, God bless you elephantly! You have proven to the NPP, that never at any point in time, will a seasoned and well groomed, resourceful communicator like you, sit mute and inarticulate when the name of our dear NPP is being denigrated! You have once again touched the hearts of many loyal patriots!
Many patriots have posited and maintained, that the future of our party depends on our ability to mobilize the youth and eloquently communicate at all times to defend the course of the NPP; this you have demonstrated so much so well hence you deserve to lead the Youth front of the NPP.
Nana B, is affable, stands by the truth at all times and has clearly demonstrated that , there's no point in time He will ever leave us in the middle of a battle; for He knows very well, that cowards die twice before their death.
Before I forget, I'm saddened by the fact, that unfortunaetly, many unrepentant propagandist misconstrue confidence and competence for arrogance! These are two different things! Nana Addo, our workaholic President, suffered a similar tag, and Today, the results are out there for us to see! Nana B, Loyal members of the NPP urge you to continue to be strong and keep defending the party in every best way you can; for the battle has always been the Lord's!
It's quite unfortunate, that many do not still understand the simple semantics of " fighting spirit" and rather juxtaposes it to kickboxing!
As you journey towards becoming the next NPP's National youth Organizer, bear in mind, that anything NDC must be brutally dealt with, don't spare them! Majority of us are of the greatest conviction, that any true and loyal party member will rally behind you in this regard! You have proven that your loyalty is to the party and not to an individual!
Colleague Patriots, let us disabuse our minds of the erroneous impression created by the false prophets, that, eloquence and articulation is synonymous to aggressive communication! The crusaders of this infantile analogy need to be schooled on what communication means ! Let us not also be oblivious of the fact, that government/ruling party communicators need to do "more extra" work than their counterparts from the opposition in the sense that , they have to refute, defend, annihilate and the deflate the propaganda machinery of our opponents. The more reason why we need to support Nana B to become our next National youth Organizer! He has all that it takes to lead us!
Nana B, boys go chop, girls for chop!
Long Live Team Perfect Replacement!
Long Live Nana B
Long Live NPP!