GIFAS Herbal Mixture Scoops Two National Awards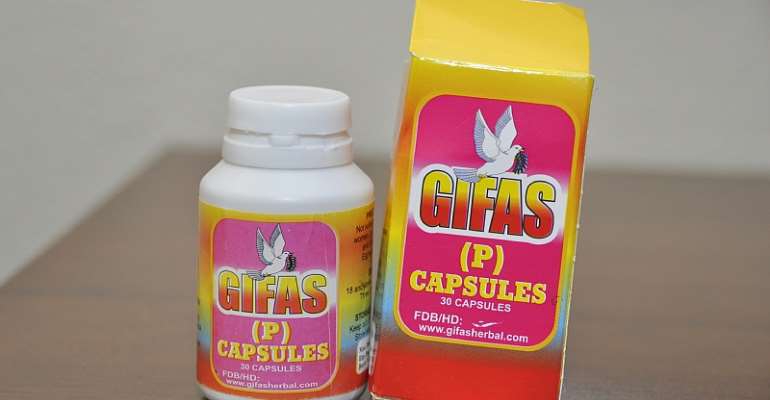 The efforts of Gifas Health Company Limited, the manufacturer of "Gifas Herbal Mixture" has been recognized, when the company scooped two tops awards at the National Herbal Awards ceremony held in Kumasi, the Ashanti regional capital, on Saturday, January 6, 2018.
In a colorful ceremony, the product, "Gifas Herbal Mixture" won the "Best Sexually Transmitted Disease (STD) Herbal Medicine" and the "Best TV Advertisement of the Year", for the year 2017.
The Ghana National Herbal Awards, instituted by Nyamedua Herbal and Foundation, a Non-Governmental Organisation (NGO) made up of herbal experts – is to promote locally made products to consumers and facilitate the discovery of new and life-saving products.
It is supported by the Department of Herbal Medicine of the Kwame Nkrumah University of Science and Technology (KNUST).
The 2018 Ghana National Herbal Awards was aimed at providing a platform to improve herbal products made in Ghana and also make awareness, loyalty, recognition and prestige for herbal products in the country.
The company's creativity in its presentation of the product, on radio and television, was also recognized by winning the "Best Herbal Advert of the Year", television category.
The Chief Executive Officer (CEO) of Gifas Health Company Limited, Oheneba Appiahyei Donkor was excited over the successes chalked by the company over the past 7 years.
Speaking in an interview with Otec News' Francis Appiah after the ceremony, Appiagyei Donkor said the awards scooped by the company were the testimony of the potency of the products, manufactured by Gifas Health Company.
"There are a lot of herbal medicines in the markets that are to cure STDs, and if our products have stood tall among them, it means our products are good well recognized and patronized," he happily said.
"The awards have encouraged us to go an extra mile to improve on the potent of our products, though we were doing our best in serving the people with good quality health care, we never knew we were been watched, though we are aware of the potent and quality of the products," he added.
He said the award is a challenge to them and promised to maintain the quality and standard in the preparation of the medicine, to effectively always find the best antidote to STDs.
"We promise our customers and potential customers that we will maintain the quality and efficacy of our products, we will also do more researches into the medicines to serve our people with the right quality," he also said.