Trending Photo: The day principles Won And Partisanship Lost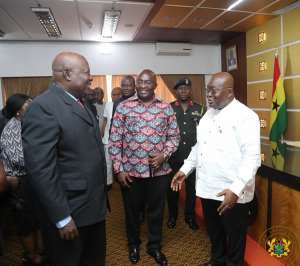 The appointment of Martin Amidu as the country's first Special Prosecutor to fight the canker of political corruption has been greeted with wide and wild acclaim.
He is the former Attorney-General under the Mills administration of the National Democratic Congress (NDC) which means he is politically wired to oppose the governing New Patriotic Party (NPP).
But this threat is exactly what President Akufo-Addo is not worried about. He wants corruption prosecutions to be de-politicised. Ghana's money must be retrieved irrespective of which party is in government.
Martin Amidu has also demonstrated a fierce virtue of putting country before the party as he singlehandedly waged a war on his own party men over the 52m cedis judgment debt saga.
In summary, the President has given power to a man who has a double-edged sword. It is this elevation of difficult principles over easy partisanship that has got many feeling hopeful that Ghana can work again.