Is The Gaming Commission Chairman Aiding Criminal Activities With Impunity?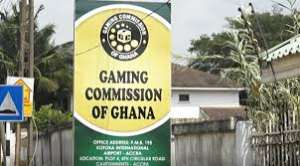 The Gaming Commission of Ghana, which is currently headquartered at Cantonments in Accra, is sitting on a time bomb, thanks largely to the autocratic and non-compromising activities of the close to 78-year old Board Chairman, Mr. Alex Baafour-Gyimah.
Mr. Baafour-Gyimah, who is the brother-in-law of President Akufo Addo, has single-handedly maneuvered to bring back a deputy director of the Gaming Commission, Ms. Michelle Smart-Abbey, who was caught stealing dollars from a Chinese Lady Gaming Operator.
It is alleged that Michelle Smart-Abbey, who had gone to the offices of the Chinese lady accompanied by a police officer to investigate illegal gaming activities, dipped her hand into the handbag of the Chinese Lady when she briefly went outside her office and stole some dollars and hid it under her breast.
But for the eagle eyes of the police officer who accompanied Smart-Abbey, she would have gotten away with it. Even when she was confronted after the theft she vehemently denied it until she was threatened of arrest before she finally caved in and removed the pile of dollars she has hidden under her breast.
The police officer who did not take kindly to the insults hurled at him and the Chinese lady by Michelle Smart-Abbey before she confessed to the theft took her to the Police Headquarters for her cautious police statement. In the statement, Smart-Abbey confessed to the theft.
This embarrassing activity by Smart-Abbey led the Management of the Commission to suspend her indefinitely pending investigations into the case. It must however be put on record that during her suspension Smart-Abbey who is Senior Management Official of the Commission was each month paid her full salary plus benefits.
But not long after the suspension of the alleged thief, Baafour-Gyimah who was the first Commissioner of the Gaming Commission and had a rocky relationship with employees which daily spilled into the media gallery until his exit in May 2009, went about pleading for the recall of Michelle Smart-Abbey, sometimes using sheer threats and insults to bulldoze his way through. He threatens everybody and does not fail to tell everybody that his party New Patriotic Party is in power.
It is important to note that Baafour-Gyimah during his pleadings to have the alleged thief reinstated, also did not fail to drop the bombshell that he has the right to do anything at the Commission because his 71 year old wife, Mrs. Rhodaline Baafour-Gyimah, who sits on the Board of Ghana Oil Company, is the cousin of President Nana Addo Dankwa Akufo Addo.
Some board members are really disgusted at the behavior of Baafour-Gyimah, who they claim have no respect for other members on the Board. They claim Baafour-Gyimah who throws his weight about and treats other Board Members like kids, called an emergency meeting in December 2017, and maneuvered in forcing a vote to recall Michelle Smart-Abbey, saying they should demote her from her current position as a deputy director to a managerial level.
According to sources at that Board meeting, Baafour-Gyimah stated that its time to forgive Michelle Smart-Abbey, since she has suffered enough, he started the Commission with her, and is remorseful for what she did. How much has the lady suffered and how remorseful is she, is something yet to be determined. And is it not laughable, strange and bizarre for Baafour-Gyimah to claim that she started the Commission with Michelle Smart-Abbey? Did Baafour-Gyimah establish the Gaming Commission with his own savings or public funds?
Even more bizarre is the fact that a committee set up to investigate the circumstances leading to the theft by Michelle Smart-Abbey was never allowed to do its job properly as the Board Chairman daily called the members of the Committee to drop all charges against the thief and give her a second chance.
Interestingly, it was during the time of Baafour-Gyimah as the first Commissioner that he hired Michelle Smart-Abbey in August 2007, and his wife Rhodaline, has never liked the relationship that exists between the two, and had in the past questioned some past and present employees to know what transpires between the two.
But the mother of all bombshells is the information uncovered by the Ghana Palaver that the Kwame Nkrumah University of Science and Technology (KNUST) certificate presented by Michelle Smart-Abbey to Baafour-Gyimah in 2007 for employment is fake. According to Michelle Smart-Abbey she graduated with Honours (Second Class Upper) in English and Political Science in 2006, but exhaustive investigations by Ghana Palaver has confirmed that she did not pass her final examinations at KNUST and that the certificate she is parading around is totally fake. It is also worthy to note that Michelle Smart-Abbey did her National Service with the Gaming Commission, and was hired after the service.
Ghanaians will recall that just last year there was an earth moving tsunami at the Social Security and National Insurance Trust (SSNIT), where the ICT Director was accused of presenting fake certificates for employment. The uproar led to his ouster from SSNIT.
Therefore, one wonders why Baafour-Gyimah instead of supporting his brother-in-law President Akufo Addo to succeed will throw all caution to the wind and rather indulge himself in such dubious traits by forcing the Gaming Commission to recall a fake certificate holder, who also stole from a Gaming Operator, to embarrass Akufo Addo.
The Ghana Palaver will want to know what Baafour-Gyimah stands to gain from Michelle Smart-Abbey but tying the hands of all the board members and bringing back a thief who is known to every member of staff of the Commission?
What is the interest of Baafour-Gyimah in this thievery matter? Baafour-Gyimah who seems to on the war-path is not only loading on Board Members but even ordinary employees. He is noted for getting angry at everything.
A board member who wants the President to remove Baafour-Gyimah as Board Chairman claims Baafour-Gyimah cannot even walk properly and it takes time and effort for him to make a coherent statement. He wondered why such a man who brings nothing new to the Gaming Commission will be made the Chairman just to throw his weight around and seriously embarrass President Akufo-Addo.