NPP Race Heats Up In The Eastern Region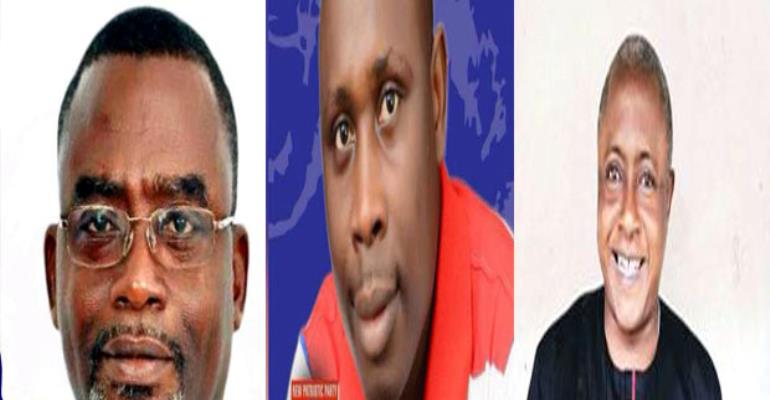 POLITICAL TENSION is slowly mounting in respect of the Eastern Regional chairmanship race of the ruling New Patriotic Party (NPP) as two persons are lacing their boots to unseat the incumbent regional chairman, Kiston Ohemeng Kissi, in the upcoming party's primary.
The current regional chairman – former Member of Parliament (MP) for Akwatia – who is seeking a re-election, is to be challenged by his regional first vice chairman, Alhaji Umar Bondinga and Paul Amaning, managing director of PMKF Ghana Company Limited.
Mr. Kissi, in the previous election, secured 361 votes to beat the then incumbent – current CEO of the National Health Insurance Authority, Dr Samuel Annor – who polled 229 votes, while Alhaji Umar Bodinga retained his position as regional first vice-chairman with 444 votes to beat Nana Addo Boakye, who garnered 143 votes.
Some of the party delegates who boldly declared on radio networks in the region, indicated that the race for the regional top position of the party would be a straight fight between Paul Amaning and Alhaji Bondinga, who are likely to unseat the incumbent chairman.
Bondinga
Some weeks ago, a group named 'Get Bodinga Elected' had called on the NPP delegates in the region to vote for Alhaji Umar Bodinga.
Alhaji Bondinga, popularly called 'Field Marshall,' though had not personally declared his intention to contest for the regional chair position yet, posters with his images have started flying across some of the constituencies in the region.
The fire band politician, according to sources, was penciled by the president as an Ambassador to Saudi Araba, but was later dropped because of his vibrancy in the NPP.
Alhaji Bondinga started his political career from Akyem-Kukurantumi as ward youth organizer, to ward chairman, then became the 2nd vice chairman from 1996–2004 for the then Abuakwa Central Constituency.
He became the Eastern Regional 2nd vice chairman from 2005 to 2009, then became the regional 1st vice chairman for two terms from 2009 up to date.
Paul Amaning
Mr Paul Kwabena Amaning, a native of Asuom in the Kwaebibirem District of the region who has openly declared his intention to contest race on many platforms, has stated that the region needs a new face to lead the majority of the youth to take up the challenge of helping one another to succeed.
According to him, the NPP needs such experienced hands to ensure its continuous stay in power for the development of the country.
The regional chairman indicated his desire to ensure that every regional, constituency and polling station executive of the party is provided adequate opportunity to serve and function in the offices they occupy.