GhanaPost GPS So Far The Worst Performance Of The NPP And Akufo-Addo Goverment--JOY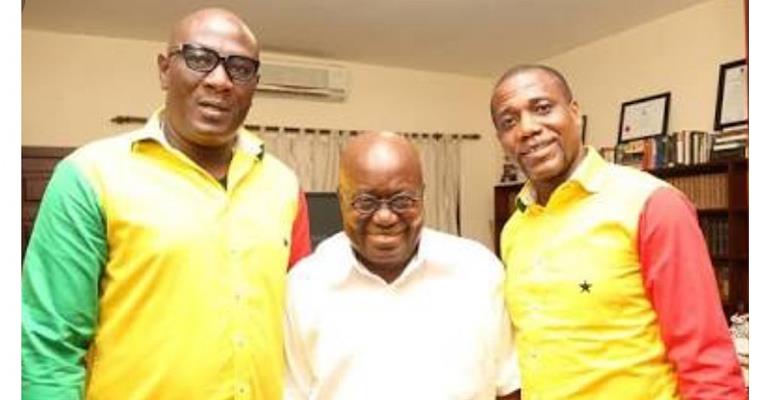 Independent presidential candidate in the 2012 and 2016 elections of Ghana, Jacob Osei-Yeboah has questioned the rationale behind celebrating 25 years of Ghana's fourth republican constitution. He said the current dispensation has been plagued with extreme polarisation, covenanted corruption growth from 'kalabule' to gargantuan violent vigilantism, disrespect against elders, destruction of businesses of perceived political opponents and winner-takes-all.
He said the fact that 70 percent growth of our economy goes to enrich political appointees and their cronies, whilst 30 percent goes to the state with huge increase of sovereign debt to Ghanaians and next generation does not deserve any celebration.
He spoke to newsafricaonline.com in our series to assess Ghana's president, Nana Akufo-Addo's first year in office. Below are his responses to our questions
News Africa: What is your assessment of the Nana Addo led administration's first year in office?
Jacob Osei Yeboah: There are varied areas that we can assess the administration of His Excellency (H.E.) Nana Akufo-Addo. The real assessment is the candid reflective assessment of majority of Ghanaians.
The high perceptive expectations of most Ghanaians have not been met. There is no money in the system and hardly can any government create wealth during the first year. It would be miraculous and require diligence in blocking some key greedy leakages of wealth by the government.
So far as presidents of political parties and administrations are concerned, H.E. Akufo-Addo has performed creditably best in the 4th Republic. But an independent president would have performed far better.
NA: What do you consider as the government's boldest initiative so far?
JOY: The implementation of Free Senior High School education policy (Free SHS), as I described sometime ago is ambitiously selfless and righteous. Redistribution of wealth directly and indirectly to every family in Ghana is selfless whilst industrialising human beings as products of knowledge based society is righteous.
However, it has been rolled out ambitiously because the President, Nana Akufo-Addo was afraid that any delay might give some of his greedy captors the opportunity to rationalise any form of delay.
Another important aspect is that, while Free SHS is a much touted policy by the governing party since 2012, little thought has gone into its implementation.
NA: What would you have done differently as president in the implementation of the free SHS? How do you think the current challenges of the policy could be addressed?
JOY: The policy should impact on ALL SHS students both public and private schools. The weakness had to do with creating political capital rather than the substance of quality education. Quality in terms of qualification and academic competition among the Senior High Schools must be maintained. The economy must correlate in supporting the policy for public and private schools' students as well as boarding and day students equitably.
Get the number of qualified SHS students and allocate appropriate funds to support their SHS studies in both private and public schools. Parents may have to top a little, depending on public or private and day or boarding.
If we are able to modernise our economy through proven technology application of a National Identification System, we can scientifically carve a form of levy to support the FSHS through property tax, road tolls, bottled water, toilet rolls, tooth paste, alcoholic drinks, and cigarettes among others.
NA: What's your assessment of how the security agencies and the courts handled the vigilante groups? Do you think it has implications for law and order in future elections? How do you want the IGP to deal with the issue of groups seeking to enforce law and order?
JOY: Vigilantism begins with the impunity and the posture of total disregard for Article 55 of the 1992 Constitution and the Political Parties' Law (Act 574) by the Political Parties especially, the ruling New Patriotic Party (NPP) and the opposition National Democratic Congress (NDC). The Chief Justice and the Judiciary agree to such impunity as no law works if NDC and NPP collectively do not agree.
Initial handling of the NPP vigilante groups lacked understanding of national security and sociopolitical consequences. There is much wisdom now as to how the government has handled and calmed the energy in the vigilantes.
The law was made for human beings and not human beings for laws. That is why it is not only the punitive side of the law that must always apply. Moreover, it is wisdom in law that Judges have been given powers to tamper justice with mercy.
The government must provide alternative livelihood to the vigilante groups at distances apart in order to diffuse the energy in them. My suggested opportunity is for the vigilante groups to provide security for small scale mining companies in our bushes in order to minimise the effects of galamsey sustainably.
The vigilante groups will continue to have relevance in our national politics if the 1992 constitution is not amended to take the powers of the state indirectly from the political parties through their respective governments and so far as vigilantes become obvious protectors of opposition leaders.
Those groups seeking the enforcement of the law should add their voices to calls to amend the 1992 Constitution. Unfortunately, under this 1992 Constitution the groups can always have their say in democracy but they may lack appreciation of national security. Enforcing the law is not about brute measures alone. We must also appreciate the fact that enforcing the law is more to do with preventive initiatives in breaking the law in the first place. So there must be measures by the security forces never to allow these incidents to happen again any time there is change in government. But there in not much the Inspector General of Police can do by himself.
The vigilantism is the best issue ever handled by the NPP government under the 1992 constitution so far, especially the speedy turnaround with wisdom.
NA: What would be your overall assessment of the handling of the economy in the first year, in respect of his the currency and interest rates have been managed, for example?
JOY: The rate of increase for both exchange and interest rates have been improved from that of 2016. Exchange rate increase depicts foreign goods consumption or an import-dependent economy. Interest rate increase had to do with shortage of capital in the economy. Most banks interest rates are above 33 percent, though the official figure is about 28 percent. The solution is wealth creation.
There has been no wealth creation economic ingenuity during the first year, which the country needs urgently. However, the government has done well to block some corruption loopholes and minimised expenditures prudently. The level of destruction of the economy from the previous government, with unthinkable waste and corruption left much to be desired.
Most actions by the government had to do with wealth redistribution due to political patronage.
NA: What would you have done differently in terms of economic management, if you had won the 2016 elections.
JOY: Ingenious wealth creation through the process of industrialisation and deliberate policy of creating Ghanaian giants of industry. How to achieve that is stated in my 2016 foundational policy or manifesto, which I also expanded as free consultancy during the 28th Anniversary of CSIR. The government is studying that material and it is in the right direction that Prof. Frimpong Boateng stated recently that one percent GDP is allocated for research. Unfortunately our economic experts are mostly bookish and certificate experts. They are experts in trying to manage the macroeconomic indicators without dealing with the economic fundamentals. They always hope and pray for miracles to sustain the macroeconomic indicators.
NA: What would you describe as Nana Addo's strongest action against corruption? Is there any other way you think he can handle allegations of corruption? What are your thoughts about suggestions that Nana Addo should begin by prosecuting his appointees' accused of corruption?
JOY: Any political party leader whose party fails to comply with Article 55 of the 1992 Constitution and Political Parties' Law Act 574 is a protector of corruption and leader of vigilantism. Any collective good governance and incorruptibility is mainly about the value system of that president and level of merciful heart he has for Ghana and Ghanaians.
Nana Akufo-Addo lost the fight against corruption from the transition period when over 200 state vehicles went missing. The real owners of galamsey sites have never been known except workers. Innocent Ghanaians and their children are going to pay over $750M on behalf of those who have enriched themselves with galamsey money like Woyome. If this is not corruption against the people of Ghana, judge for yourself.
As a matter of fact, Akufo-Addo lost the fight against corruption during the campaign period. Because, neither himself nor the NPP ever thought of amending the 1992 Constitution, which serves as a catalyst for corruption.
The government is in a state of disillusionment of the shadows of known corruption scandals perpetrated against Ghanaians since the 4th Republic by both NPP and NDC. It's going to be the usual rhetorical election chanting of corruption
The much-touted Special Prosecutor will prosecute only houseflies. The Special Prosecutor will only go after the small political fishes as sacrificial lambs and leave the corruption dinosaurs like the fight against galamsey at best.
The political game for the Special Prosecutor to catch houseflies has already begun with rhetorics by President Akufo-Addo, "do not say is political witch hunting" and former president, John Mahama "defend my appointees" in a typical theatrics.
If the government cannot even prosecute the opposition NDC over corruption allegations for fear of repercussions of same revelations against its members, forget it.
If former President Mahama and NDC are bold to think of wrestling power in 2020, just deduce how they perceive how corrupt even the current NPP administration to be.
The WORST CORRUPTION ever perpetrated against Ghana and will hunt this nation is the alleged death of a sitting President, the late President Atta Mills in the highest security zone and office in the country.
President Mahama was bold to point out that using digital addressing for property addressing is 419 which pointed directly at the Vice President. The reaction of the Vice President, Dr. Bawumia, who was obviously annoyed, as demonstrated in his uncalled for response to the former President – that we are scratching your back on all these corruptions involving huge Ghanaian taxpayers' money and you had the audacity to talk about this little money of US2.5M. But remember, now I am also the Vice President. The government in trying to conjure for digital addressing to replace property addressing is rather strengthening that assertion. Silent would have been golden for Dr. Bawumia, in this instance.
If NPP can really fight corruption in reality and build strong institutions for prevention and deterrent, I bet you most voters and myself will join the NPP. Ghana is currently a de facto one party state.
NA: What would you describe as the government's best performance so far? What is the government's worst performance so far?
JOY: The best performance is the restoration of nursing allowance. Because the nursing students sought solution from opposition leader, JOY2012 and together dialogue with the government constructively.
Student nurses association leadership consulted Jacob Osei Yeboah over allowances
The worst performance is digital addressing system, now the greatest bottleneck for achieving the National Identification System. Because, the government failed to listen to constructive and competent direction from JOY2012, the leading constructive and development oriented opposition leader.
NA: There's been hints of reshuffle, if you were the president, would you reshuffle your Cabinet after one year? How would you respond to claims that reshuffling after one year means your search was not thorough?
JOY: One year is more than enough period for reshuffling. Six months is enough for probation for delivery indication by any appointee. It's not about thorough search alone but also about available options.
NA: How will you rate the government so far on a scale of 1 to 10?
JOY: The President, Nana Akufo-Addo demonstrates passion to perform but is struggling with his own party members. This will earn him 8 on the scale, whilst the collective appointees and NPP support is 4.
NA: How will you rate the Vice President, Dr. Bawumia and Ministers so far on a scale of 1 to 10?
JOY: The Vice President, Dr. Bawumia, I like him very much but he is yet to demonstrate all the economic theories he parroted during the campaign period. He has been dented seriously with technological exploration of digital addressing which is not his field. He fought aggressively with a dead goat, which stinks horribly on digital addressing. Digital addressing is going to be one of the most embarrassing goofs in the tenure of this NPP government. Nonetheless, the greatest achievement of Dr. Bawumia is blocking some of the leakages, which have reflected positively on some of the macro economic indicators. Economic experts are assessed based on wealth creation. He has still not answered his own 170 questions, which the former Vice President Amissah-Arthur, has thrown back to him to answer. Let me give him 5.5 on the scale for the first year.
The best performing Minister is Peter Amewu, who took right and bold steps to solving galamsey menace once and for all. But was called to order by NPP big men. I will give him 7.5. I will also give Alan Kyeremateng also 7.5 as he is taking his time to lay a solid foundation for One District, One Factory. Both took seriously the constructive criticism solutions of the JOY2012 team into consideration.
For 110 Ministers it will be difficult, so let me end here.
NA: Why were you not invited to the President's meeting with leaders of political parties to deliberate on the 25th Anniversary of Democracy in Ghana? How should we celebrate it in your opinion?
JOY: The invitation was meant for political party leaders. So definitely, as an independent presidential candidate, I will not be part technically. If the invitation was for flagbearers, I would have been invited too.
What exactly do we want to celebrate during these 25 years of our democracy in the 4th Republic? Is it extreme polarisation, covenanted corruption growth from 'kalabule' to gargantuan violent vigilantism, disrespect against elders, destruction of businesses of perceived political opponents or winner-takes-all? Or to celebrate the fact that 70 percent growth of our economy goes to political appointees and and to enrich their cronies, whilst 30 percent goes to the state with huge increase of sovereign debt to Ghanaians and next generation?
God alone deserves unqualified thanks for sustaining Ghana these 25years of self-inflicted destruction of our socio-political disposition and wealth. If NPP cannot support the passion of the President, H.E. Nana Akufo-Addo, the same God continues to fight his battle on the same scale that the NDC was weighed and found horribly wanting. If NPP does not minimise its mistakes and it is found wanting on the same scale of the Lord's battle by 2020, the anger of Ghanaians will know no limit!
We need to use the Silver Jubilee to establish the foundation of building the emerging Ghana. Both NPP and NDC plagiarised JOY2012 "Working Ghana Agenda" but had no clue. My manifesto Stated the establishment of "The Sacred National Order" towards nation building. This is definitely far from the thoughts of any leader of political parties. It is only independent presidential candidate that can lead build the nation. You cannot build a nation where more than 50% are against you for the sake of opposition philosophy.
H.E. Nana Addo is putting much effort and indeed he is the best among leaders of Political Parties, as former President Rawlings alluded to and I do agree with Rawlings. H.E. Akufo-Addo is trying to shadow and give a foretaste of what a true independent presidentials system of governance will be. I really admire him for that.