Igbo Ladies Are The Most Loving Marriage Partners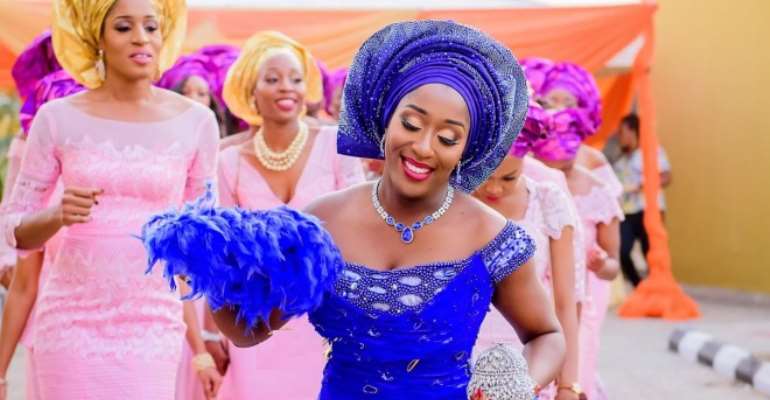 There are good women everywhere but there are certain virtue you observe in most Igbo ladies that you do not often see in other women. It is when Igbo ladies marry only within their ethnic group; they are more willing than most ethnic groups to marry down. Most Yoruba ladies would not marry below their "level" unless some circumstances demand it. In the case of Hausa ladies, their families usually introduce them to men above their level. Other ethnic groups may vary.
What is even more surprising is why well-informed Igbo ladies would be willing to marry Ogbete Igbo men when they could do better! Some of us are so envious when we see a well-rounded lady being followed by one of our brothers. You can bet that she is Igbo! The same lady would never consider anyone outside of her ethnic group on the same level with our brother. It baffles some of us. We must ask what it is that makes modest Igbo man score so high with Igbo ladies!
Indeed, some Igbo men have complained that too many of their women are marrying outsiders, especially Yoruba men. The excuse is that Yoruba men cannot find such beautiful ladies in their ethnic group. Nothing can be further from the truth because the well informed Igbo men also marry Yoruba ladies gleefully. Igbo men must learn from Yoruba men, the days we control ladies are gone, ladies marry whoever they chose. Beauty is created in every ethnic group.
Unfortunately, Africans are going through some inferiority complex right now since high toned skin, whether bleached or natural in African girls are mistaken for beauty. This has created separate industry and market for bleaching creams. Unnatural hair that is not theirs have taken over the different hair styles we used to admire and many men just loved. It was Eddy Okonta, glorifying Abeni's ikebe in one of his songs as ayakata.
Seriously, most Yoruba men would not even dare go to Yoruba ladies above them asking her in marriage unless they wanna hia wod! If they dare, you can be sure none of the ladies would be on the level of Igbo ladies that would marry down; but only to Igbo men. By the time ladies are well educated, they must have established some relationships while in school; though others may miss out. In that case, these ladies would rather stake their chances on good education.
You can also be sure that when these Yoruba, Hausa and Igbo ladies are marrying outside their own ethnic groups, they are going for men above their levels. One of the hot debates is that if you are not an Igbo man, the dowry for Igbo ladies are intentionally raised. Some of us have forgotten that the same is true for Igbo men based outside or in Diaspora when home to marry Igbo lady. By the time many of these Igbo men get back to their base, they are almost broke!
If all the stories are true, Efik or Calabar ladies have been judged the best in Nigeria. It could be the best stew no other ethnic group or country can compete with. It is called edikang ikong. Any human that has never tasted it, must do so before they die. It will be an exaggeration to say that alone can make a woman, Calabar ladies know ways to men's heart and care for them. Money surely play a part in keeping the best woman but the woman makes a good family.
We like to fool ourselves about Igbo dowry. The fact is well informed and educated ladies come with higher investment, so they demand higher potential. Yoruba or Hausa ladies are as dear as Igbo. It is your choice if you want to pay now or later. Nobody is selling their daughters since no one can pay for care, love and money invested from birth. Sooner or later ladies will demand investment that will take care of their families, even when they have their own money!
Nevertheless, demanding too much money up front in terms of dowry, showoff to entice a lady above your standard and conspicuous spending with bank loan may become detrimental to the modest actual incomes of the couple. There are enough problems to overcome getting used to one another, going broke early in the marriage as a result of extravagant ceremonies demand for exotic honeymoon, white and traditional wedding can take its toll.
All the money could be used as down payment for a house, land or investments that will bring returns to a modest couple. It is not a problem for rich parents that can take care of expenses including honeymoon vacation and guest travels. But too much spending that both husband and wife have to pay for has led to grave consequences beyond divorce.
Marriage is a long term relationship, get to know each other, including planning for the-day-after financial reality, so that parents and friends can be well advised of what can be afforded. No one should be carried away with the glee of marriage only to cry when all the guest are gone. It is even worse when men marry hoping to reap from the hard work of the wives because of her profession or her rich parents.
It has led to problems in Diaspora where couples kill one another. There are silent cases where men inflate their education or professions only for the wives to find out they married someone well below their standard. There was a lady that quit a responsible position to travel out only to find out the man she married lied about his profession and financial status. She ended her life!
Africans and Asians have been vindicated. Polygamy is not a barrier to good ladies since studies have come out that men in a polygamous relationships live longer on the average than those in monogamous relationships . Even Europeans found a way around monogamy by getting into serial monogamous affairs. So their best way of finding out the qualities of women is marrying serially to a woman in the village or every continent. Watch out for the one that might kill you.
After all these, there is a special class of men regardless of their ethnic group known as fine and bad boys. They break all the rules above. Many ladies fall for them, even high class responsible ladies from all ethnic groups bow at their feet. Most of them, could say all of them have nothing to offer but sweet mouth and clean white shirts. Some ladies buy everything for them just to be accompanied by "presentable" men. Unfortunately, broke boys jump from one lady to another.
In short, Igbo men are lucky with their women regardless of their financial or educational level, their women can only say no. Yoruba women would look at their men that dared, from head to toe, wondering who this ambitious man wanted as a wife. Most Hausa ladies are still modest and influenced by families than their sisters from other ethnic group. But hurry up, not for long.