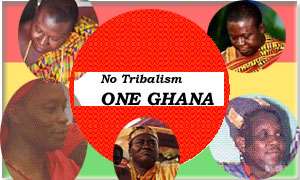 Accra, July 26, GNA - Members of Parliament on Tuesday urged Ghanaians to set aside ethnic sentiments and unite to sustain the peace being enjoyed in order to push the development process forward. They cited neighbouring countries such as Cote d'Ivoire, and said fanning of ethnic sentiments by some politicians and unscrupulous persons could plunge the country into chaos.
Members were contributing to statements made by Mr Kofi Osei-Ameyaw, NPP member for Asuogyaman and Mr Joseph Amenowode, NDC member for Hohoe South, on rising ethnic sentiments, its implications and national development.
Mr Osei-Ameyaw said negative exploitation of ethnicity had wreaked havoc on the African Continent.
He said Ghana's First President, Dr Kwame Nkrumah did not "bother about what people thought he was. He only wanted to be seen as an African domiciled in Ghana."
He said: "Our laws and actions have tried to secure for us a sense of unity and equity but that is not enough. I will, therefore, make this recommendation, the Avoidance of Discrimination Act, 1958 should be revisited to address any possible defects arising from modernisation and social changes."
Mr Osei-Ameyaw urged political parties not to dwell on ethnic issues saying the idea that there should always be a Southern President and Northern Vice President or vice versa should be done away with. He urged the media to desist from making their channels "willing tools in the hands of anarchists for whipping up ethnic sentiments." Citing recent demonstrations by the Ga Dangmes against the naming of Accra Sports Stadium after Ohene Djan and the intense debate over ethnic inferences in the Asantehene's World Bank Grant. Mr Amenowode said Ghana should not be allowed to become another Rwanda.
He said ethnic-based associations such as Volta, Nzema and Asante students unions have been allowed to replace school-based old students unions that used to exists on campuses.
Alhaji Mubarak Muntaka, NDC-Asawase, in his contributions said people should desist from asking people where they came from upon meeting people for the very first time.
He said what should occupy Ghanaians should be the creation of a secure environment to ensure safety for everyone.
Deputy Minister of Tourism, Mr Stephen Asamoah-Boateng, said: "Division would not take us anywhere... diversity must bring us together."
Mr John Mahama, NDC-Bole-Bamboi, called for more inter-marriages among ethnic groups to ensure unity and togetherness. He said educational reforms had brought about various community-based educational institutions where students did not travel out of their communities.
This, he said, had overthrown the benefits of boarding secondary schools, which saw students mingling with others from various parts of the country.
Mr Stephen Balado-Manu, NPP Ahafo Ano south, touched on the behaviour of some politicians, who exploited ethnic sentiments to their advantage. Mr Kofi Jumah, NPP Asokwa, said it was regrettable that while European countries were talking about uniting countries, "we are talking about uniting ethnic groups."
Dr Kwame Ampofo, NDC South Dayi, said a better word should be found to replace the word "tribe", which was derogatory.