January 9, 2018
|
Feature Article
BawaMotgari, Cousin Dramani Is Not Coming Back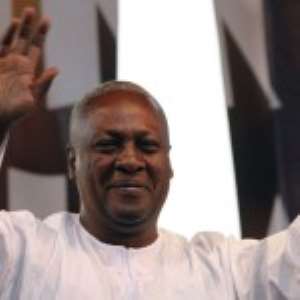 What is wrong with Mrs. Joyce BawaMotgari, the former Deputy Transportation Minister, in her cousin John Dramani Mahama's rag-tag government of the National Democratic Congress (NDC), for her to be quixotically crusading for the recently resigned Second-Deputy Governor of the Bank of Ghana? The fact of the matter is that Mrs. Motgari is a shameless scofflaw who drove around the country for most of the period that she was a deputy cabinet appointee without a driver's license, by her own public admission. One begins to wonder on what basis, other than being cousins with the former President, she had been appointed the number two most powerful executive officer of the Transportation Ministry. The woman simply has absolutely no credibility whatsoever.
If she really thinks and believes that a grossly incompetent and thoroughgoing corrupt person like her cousin Mahama would regain official access to the Flagstaff House for the second time, in order to have Ghanaians and their assets and resources sold on the cheap on the slave markets of the Arab world, she must be the most naïve Ghanaian citizen that ever served in any government in the country (See "Seek a Second Opinion Before Accepting Akufo-Addo's Appointment – Joyce Bawa Advises" MyNewsGh.com / Modernghana.com 1/8/18). I have already written about the Johnson Asiamahresignation from the Bank of Ghana and do not intend to rehash the same here. Suffice it to say, at least in passing, that it is an established routine for government appointees to be asked to resign whenever there is a change of government.
I challenge Mrs. Motgari to come public and tell Ghanaians that neither the late President John Evans Atta-Mills nor her own cousin John Dramani Mahama, respectively, forced appointees of former President John Agyekum-Kufuor out of office. I find it to be rather scandalous and disingenuous, and downright infantile, for this woman who is supposed to be trained in some aspect of the legal profession to be behaving like a brawling street woman. She would do herself and her paymaster and assigns far better and wiser by strategizing on how to get a politically and ideologically bankrupt NDC back in power than huffing and puffing like an emotionally disturbed woman.
It is ancommon knowledge that it is the Governors of the Bank of Ghana who set the monetary and economic policies of the country; consequently, it would be suicidal to have appointees of the previous government, in a highly partisan country like Ghana, who were appointed largely because their ideological perspectives and mindsets synched with those of their former paymasters, stay in office and sabotage the policies of the new government. I am actually flabbergasted that it took the operatives of the Akufo-Addo Administration so long to flush out the Mahama appointees. With his kind of advanced academic and professional credentials, at least on paper, Dr. Asiamah should have absolutely no difficulty finding a new job.
But, of course, what is quite clear here is that pathologically partisan crusaders like Mrs. Motgari appear visibly traumatized because their tactical game of rear-guard sabotage has been exposed. They have been caught flatfooted with no other game plan, thus their fatuous resort to empty threats and vindictive swearing.
*Visit my blog at: kwameokoampaahoofe.wordpress.com Ghanaffairs