Kwasi Obeng-Fosu 4 Greater Accra Regional Youth Organizer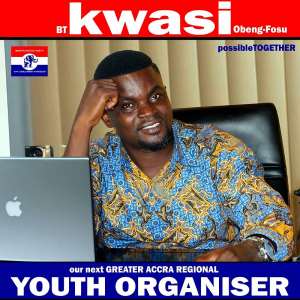 He is a teacher by profession and the constituency youth organizer for Adenta. His impact from many years ago and particularly in election 2016 resonated and was felt through-out the country with his art works, branding and grassroots mobilization. He's a member of the professionals' 4 change! Kwasi Obeng-Fosu is his name!
When we needed men to go to the hinter-lands to canvas votes for the party, Kwasi Obeng-Fosu a.k.a Baba Taufic was there! When we needed to brand our party amidst financial challenges, Kwasi Obeng-Fosu kept his business on the line and did it for us free of charge! That's a true definition of selfless leadership. NPP is a party that does not forget to reward hard work's tune and therefore the best reward is for us all to rally behind him and support him in his bid to becoming the next greater Accra Regional Youth Organizer.
Point is, when elections are over and won, then there's every need to re-strategize, promote and elect leaders who have the character and personality to be able to make sure party faithfuls, in this case, the youth are rewarded for their hard work and loyalty. The onus therefore, rests with us to support a leader who will hold the grounds and lead the front that will consolidate our electoral fortunes. To prospective delegates in the greater Accra Region, with all humility, the only way not to gamble with the future of the youth front in the Greater Accra region is for you to elect Kwasi Obeng-Fosu, popularly known as Baba Taufic as the next greater Accra regional youth organizer!
Kwasi Obeng-Fosu is leader who will respond to your call anytime any day, a leader who sees your difficulties as his and a leader whose generosity knows no boundaries. He will stand with us through thick and thin and rise with us, renewed when we hit the rock bottom! In Baba Taufic, we have that refined leadership.
Baba Taufic is a scholar and a warrior who will never display cowardice on the battle field! He's the man you can trust!
"Baba Taufic, God's hands dey inside" The way remains forward!
#BabaTaufic4GARYO