January 9, 2018
|
Politics
CVM condemns Mahama's decision to sack workers if voted for as a President in 2020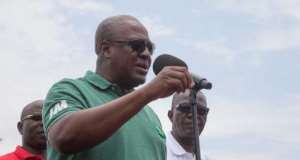 The Founder and President of Concerned Voters Movement (CVM), Mr. Razak Kojo Opoku has without any equivocation condemned a statement made by former President John Mahama through his Special Aide, Joyce Bawa Mogtari that all the workers who are perceived to be members of the ruling New Patriotic Party (NPP) if Mr. John Mahama returns to power in 2020, would be sack.
According to Joyce Bawa, it would not matter the number of years such people might have worked at their respective institutions but if they are found to be NPP people, they would be made to go.
The former Deputy Minister of Transport made the statement while reacting to news of the resignation of the Second Deputy Governor of the Bank of Ghana, Dr. Johnson Asiama, who, reports suggest, was forced out.
In a sharp rebuttal, Mr. Razak Kojo Opoku told GhanaWeb that, "After successfully punishing the Public Sector Workers with unpaid salaries and poor conditions of service from 2009 to 2016, the former President John Mahama has once again demonstrated his unflinching hatred for the Public Sector Employees".
"Majority of Ghanaians are wondering why John Mahama is very angry over the resignation of Dr. Johnson Asiama. Maybe he was doing an agenda for him at the Bank of Ghana", he wondered.
He said sacking innocent Public Sector Workers will compound the already heavy burden of the unemployment situation in the country.
According to him, "CVM would like to use this opportunity to condemn John Mahama over his unpatriotic decision to sack innocent Public Sector Workers if he becomes President of Ghana again, a Presidential ambition which is very unlikely to happen.
He is, therefore, appealing to the conscience of NDC to call former President John Mahama to order before he totally destroys their party.
Source: Daniel Kaku