Galamseyers Arrested For Mining In River Offin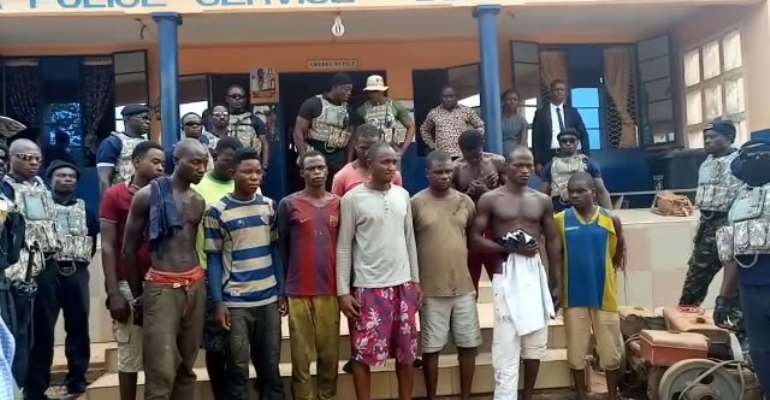 A swoop by the Small Scale Miners Taskforce has resulted in the arrest of 11 persons who were illegally mining in the River Offin.
The special taskforce was formed by the Small Scale Miners Association to assist government in the fight against illegal mining, which has led to the destruction of many water bodies in the country.
The Upper Denkyira Municipal Police command assisted in the arrest.
Its Commander, Supt. Dela Dzansi told the media that the young men were mining with dredge boats on the river.
"We are going to proceed with them to Cape Coast for prosecution," he added.
Supt Dzansi also indicated that the work of the task force and the police have been made difficult by such persons.
He said they have been driven away from the place many times, but "as soon as you leave the place, a group of them will go back and it has been a very difficult task fighting these people."
No matter how difficult it may be, however, the commander said "we are not stopping, we will come after them until they stop because the rivers must be clear and if they are clear, it is good for the nation.
"So we will not stop until they stop," he added.
Public Relations Officer of the Smale Scale Miners Association, Kwabena Boakye wants the government to pronounce stiffer punishments on illegal miners when they are arrested.