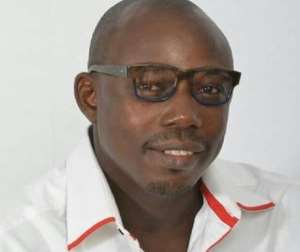 Dela Coffie
Folks, I have read the opinion piece put out there by Dela Coffie, described as an NDC activist, and laughed myself lame for many reasons. (See his opinion piece here: https://www.ghanaweb.com/GhanaHomePage/NewsArchive/Alhaji-Bature-s-death-Is-NDC-worth-dying-for-Dela-Coffie-queries-615126).
Without bothering to dig any further into the rationale behind this opinion piece, let me say upfront that Dela Coffie simply sought to use the occasion to paint ex-President Mahama black as part of whatever agenda he is bent on pursuing.
He did same to ex-President Mills only to turn round to apologize for his foolery. He appears not to have learnt any lesson from such mis-steps and is back in his saddle to ride his horse of mischief overboard.
Let's be clear right-away to say that the angle for Dela Coffie's opinion piece was provided by the death of Alhaji Bature Harzet iddrisu, a known NDC activist, and the events seeing him off.
To Dela Coffie, the absence of ex-President Mahama at these events meant that he had no respect or concern for Alhaji Bature. And over-extending that opinion, he concluded that if ex-President Mahama didn't deem it proper to be physically present and involved in those events, then, the NDC that he led to power before being defeated isn't worth dying for. What a jaundiced position!!
Much of what has come from those reacting to his opinion piece has already debunked his claim and neutralized his attack on ex-President Mahama. Had Dela Coffie done his checks properly, he would have known how much material help ex-President Mahama and the NDC gave Alhaji Bature in every way possible, including his being taken care of in hospitalization till his passing on.
He would have known better not to think that Alhaji Bature was abandoned. He wasn't because everything was done to give him the material and physical support that he needed. But life goes beyond material and physical support.
Again, Dela Coffie would have known how the NDC heavily supported Alhaji Bature and why it was heavily represented by its bigwigs (including the Joshua Alabi that Dela Coffie is doing the dirty politics for. Or whoever else he is fixated on as a better option for the NDC to present at Election 2020).
Folks, what Dela Coffie put out there is a mere irritant without substance. Were he to think beyond superficiality, he would know that the NDC is worth dying for just because of what it represents and why an individual would choose to go for it and not the other political camps.
Of course, no one is forced to root for the NDC. Anybody supporting it and openly demonstrating its spirit should know why. That is why it is important that characters of Dela Coffie's type should do serious introspection to examine their own conscience as far as political alignment is concerned.
If Dela Coffie claims to be an NDC activist, has he questioned himself why? Or is he simply using events surrounding the death and funeral rites of Alhaji Bature to expose his ignorance and waywardness as far as political affiliation is concerned?
The fundamental question for him to answer is: Why has he chosen to be an NDC activist? What motivated him? Just because he thinks that when he faces mishap the NDC should come to his aid? Or what?
Let's be clear here that the NDC is more powerful than any individual claiming allegiance to it. As an institution, it has its assets and liabilities; but what Dela Coffie has pinpointed as a flaw portrayed against the background of ex-President Mahama's absence at Alhaji Bature's funeral flies in the face of reality. Has he seen pictures of Ibrahim Mahama and others representing the Mahama family on the occasion? Why does he need the physical presence of ex-President Mahama there?
Let's over-extend issues now. The "Unity Walk" undertaken at Techiman was part of the NDC's grand scheme for party re-building. Everything had been set before the untimely death of Alhaji Bature on Friday. Was Dela Coffie expecting that event to be cancelled just to get ex-President Mahama to be in Nima? At what cost to the party?
Let's narrow everything down to Dela Coffie himself. Based in Accra, did he attend the funeral ceremony of Alhaji Bature? No!! So, what is his beef?
Folks, there is much to talk about; but let me cut it short here to say that those like Dela Coffie expending energy to find fault where there is none are the pesky pests in the NDC to be identified and brought to line (if not squashed outright).
I am a strong believer in action to get rid of such pests because they contribute nothing toward political mobilization. If Dela Coffie can prove that by churning out nuisance opinion pieces of this sort he is winning public support for the NDC, then, he can wonder whether it is worth dying for the NDC. To my mind, he isn't winning anybody for the good of the NDC. So, he can choose not to die for it. Those who know how to win support for it will do so without crying wolf.
Just an aside here. What has become of the court case involving him? The last time we read anything in the media, he was declared "wanted". Is the matter dead now? Is he free? Does he have the moral compunction to represent the NDC in the public sphere so as to win support for it?
Characters of his sort are the NDC's headache. In view of the challenges facing the party in its bid to regain political power, it is certain that opinion pieces of the sort from Dela Coffie won't help. The truth is that the NDC can do without John Dramani Mahama just as it has been able to do without Jerry Rawlings and his wife at the polls in 2008 and 2012.
Whatever happened at Election 2016 has opened eyes to see things beyond the comfort zone. With proper re-organization and pointed campaign messages vis-a-vis the lopsided performance of this Akufo-Addo administration, the NDC can bounce back to power. It doesn't need Dela Coffie and Co. to do so. That is why those who are principled and know why they belong to the NDC will see things beyond the narrow perimeter of John Dramani Mahama and work assiduously as such.
Alhaji Bature knew more than this Dela Coffie can claim to know about the NDC. He is gone and should be allowed to rest in peace instead of being invoked for the kind of backwardness that Dela Coffie has invoked in his misguided anti-Mahama trash.
Those who think that the NDC isn't worth dying for are free to leave it for whatever political destination they see on the horizon. The truth is that most of those who went that way found their way back into the NDC. Is it the National Reform Party of Goosie Tannoh? The Democratic Freedom Party of Dr. Obed Asamoah, or what?
Nana Konadu Agyemang-Rawlings ran wild to form the National Democratic Party and has had no traction. Her husband is torn between the NDC and her NDP, even as he indicates strongly that he is more at home with the NDC. Did you hear all that he said at Ho last Sunday?
Folks, the NDC is a formidable force. Those who belong to it should know why and stop fooling about. If it doesn't taste well in the mouth, spit it out.
I shall return…