Ex-Boss Rained Blows Into My Head -Ziedeng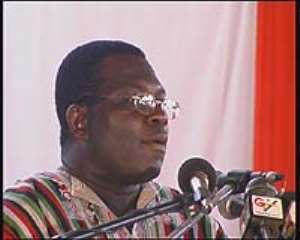 The Kokomlemle headquarters of the National Democratic Congress (NDC), in Accra, was converted into a boxing arena, when the estranged General Secretary, Dr. Nii Josiah Aryeh, turned his deputy successor into a punching bag and rained blows into this head.
Bede Ziedeng, the acting general secretary who let the secret out, last Friday when he appeared on an Accra-based radio station programme, said his former boss grabbed him and rained blows into his head. Virtually describing Dr. Aryeh's tenure as a reign of terror and disaster, Bede insisted that Dr. Aryeh threw caution to the wind and punched him in the head, over a disagreement on the issue of secretarial facilities.
"Dr. Josiah Aryeh hit me on my head. I just looked at him, and I knew that I could return a blow, but I just forgave him, he said. You mean he punched, you? the host of the programme, interrupted. "Yes, he did. Precisely he did. He punched my forehead. "What is he talking about?" Bede queried. Dr. Aryeh who appears frustrated over the unending saga of his suspension, following the allegation that he compromised his position by flirting with New Patriotic Party gurus, in the run-up to the December 7, 2004 elections, when he received a $3,000 'handshake' noted that Bede's accusation should be treated with contempt. "I don't have to go into this. I think the proper thing to do is to go to the police, he advised the acting general secretary.