Knust Study Links Increased Mortality Rate To Contaminated Water Sources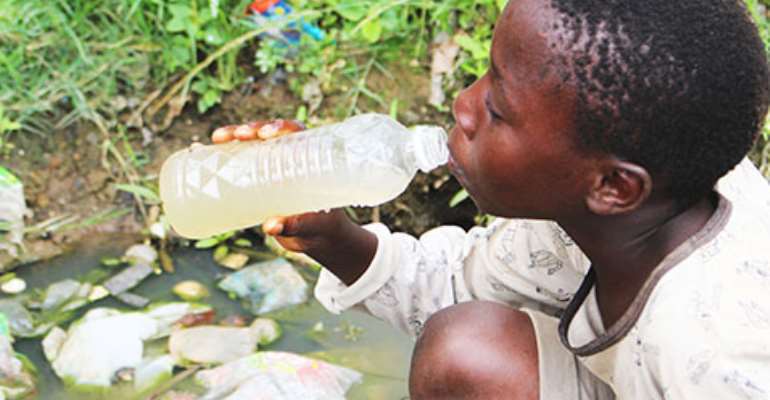 Increased mortality/death rate has been linked to usage of contaminated water sources in Ghana. This has been established through a study conducted to determine the quality and safety of water resources used by inhabitants of the Asante Akim Central & North Districts of the Ashanti region. The researchers, a multi-disciplinary team from KNUST, with varying backgrounds ranging from Pharmaceutical Chemistry, Pharmacology, Clinical Pharmacy, and Microbiology, were beneficiary of the Building Stronger Universities (BSU) grant, courtesy of the Danish Government.
The selected Districts are noted for challenges with water scarcity/shortage - a result of the geographical nature, and human activities like illegal mining, commonly known as Galamsey. Collection of water samples for the study was informed by initial survey considered, which saw over 40 samples from streams/rivers, wells, harvested rains, boreholes, tap water, and sachet water (produced within the communities under study), utilized. The samples were obtained from Agogo township of Asante Akim North, and Pontriensa & Obenimase townships for Asante Akim Central districts respectively. The collected samples were assessed for quality and safety with respect to Ionic contents, Heavy metals, Pharmaceutical contamination, Faeces/ Faecal matter contamination, and the risk associated with exposure to the use of the water samples.
Analytical studies revealed the presence of Heavy metals; mainly Lead and Mercury, and Pharmaceutical contaminants, in most of the water resources used. Accumulation of heavy metals and pharmaceutical contaminants in the body has been established to cause several health complications, a threat to livelihood.
Microbiological studies conducted on the samples (river and standing pipe samples) revealed the presence of strains of Escherichia coli; a microorganism responsible for a variety of infectious diseases. The strains were found to be resistant to common antibiotics like Amoxicillin, Clavulanic acid, Tetracycline, Cotrimoxazole, Clindamycin, and some 3rd generation Cephalosporin which provides alarming evidence for the global battle against the challenge of antimicrobial resistance. Disease-causing organisms from human and animal faeces was also present in the water sources.
Toxicological studies of water samples employed the use of zebrafish and its eggs, as research has established zebrafish as the third ideal organism for the study of Human genes, and potential toxic effect exposure of harmful substances could have on Humans. Most of the collected water samples were toxic or harmful to the fish, its eggs and embryo (unborn or unhatched developing offspring).
According to Dr K. Ohene Boabeng, the Lead Investigator, and Head of Pharmacy Practice Department, the study has helped establish the needed approach to identify, determine, and assess the health impacts of water contaminants to provide the needed data on disease-causing organisms (pathogens), chemical hazards, and emerging Pharmaceutical contaminants in water sources at peri-urban communities in the different districts within all the regions in Ghana. He maintained that such studies should be extended to water sources used by food vendors and caterers at restaurants and hotels, Pharmaceutical and Food industries, to ascertain their quality & safety.