Notorious Armed Robber Gun Down At Wasa Nananko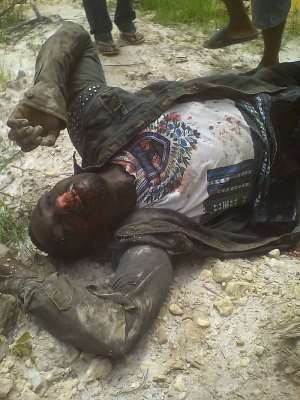 A notorious armed robber who is believed to be in his twenties with identity unknown but popularly known as Muller has met his untimely death by gunshot at Wasa Nananko near the municipal capital, Wasa Akropong of Wasa Amenfi East in the Western Region.
Speaking to an eyewitness, the course of Muller's death is yet to be revealed but according to the witness, he believed the deceased untimely death happened earlier Friday 5, 2018 by unidentified assailants.
Pius, an eyewitness narrating the incident on Hope FM morning show, said the hardened and the notorious armed robber who has been a 'friend' to police custody on several occasions attacks and Robs the residence of Wasa Nananko making life's miserable in the area.
According to him, in an unconfirmed account indicate that Muller is suspected to have robbed illegal Chinese miners mining at the period in a forest called Nsamho forest resulted in a gun battle with the miners leading to his untimely death.
The residents are therefore calling on the security agencies to come to their aid as fear and panic has gripped the entire community of Wasa Nananko.
The deceased body has been conveyed by the police to Wasa Akropong government hospital for autopsy for further investigations to proceed.
Source: Bishop Oteng Gbortse