Hotel Kufuor: Photograpy Day - July 27
News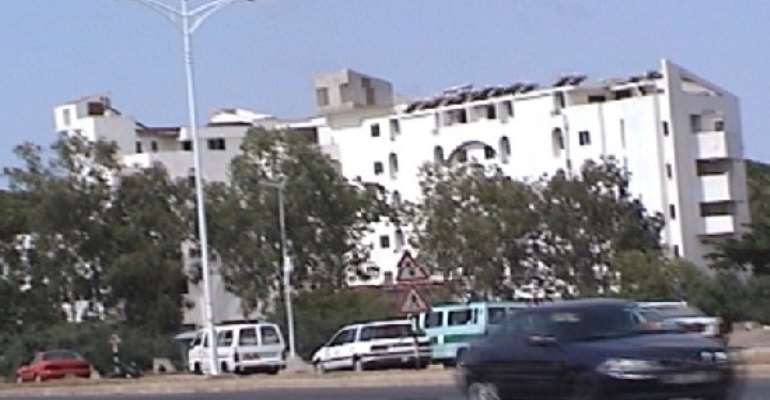 Pratt Clashes With Ken Adjapong Mr. Kwesi Pratt Jnr., the Editor of the Insight, an Accra based newspaper, has announced his intention to walk to Hotel Kufuor at HIPC Junction at 12:00 sharp on Wednesday July 27 with a camera to take pictures of the controversial hotel. Mr. Pratt, a long time political campaigner, announced his intention on Saturday on a socio political programme on an Accra based radio network.
The announcement which apparently was a spur of the moment thing was fuelled by the arrest and detention of three newsmen working for TV Africa by police officers on guard at the private residence of the Head of State, President Kufuor, at about 3:00pm on Friday.
Hotel Kufuor is only about two houses away from the private residence of Mr. John Agyekum Kufuor, who is believed to have used his eldest son John Addo Kufuor as a front to acquire the hotel. This announcement by Mr. Pratt immediately raised the ire of the Hon. Member of Parliament for Assin North, Mr. Kennedy Adjapong, who was in the studio, Adjapong retorted by asking Mr. Pratt who the hell he thought he was by going about threatening people. Giving every impression that Mr. Pratt would be arrested if he dared carry out his threat, Hon. Adjapong set out on a verbal lashing of Pratt until the microphones were cut off by the radio station.
In announcing his intention, Mr. Pratt called upon all freedom loving people to accompany him at noon on Wednesday to photograph hotel Kufuor whose acquisition by Chief Kufuor is leading to all kinds of problems for the government of the New Patriotic Party.
Meanwhile information available to the Searchlight indicates that Mr. Pratt is probably going to be accompanied by dozens of politicians, journalists and activists, journalists and activities all totting cameras in the odyssey to photograph the 'hotel Kufuor' on Wednesday to call off the bluff of the presidential security who arrested the TV Africa crew on Friday as well as MPs of the National Democratic Congress.