Glo-Sponsored CNN African Voices Hosts Ghana's Chief Moomen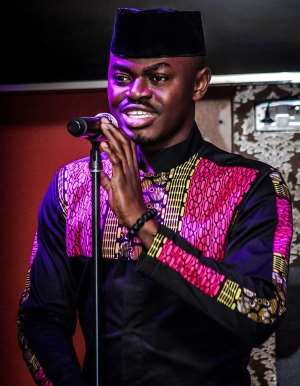 CNN African Voices sponsored by Globacom, l this week profiled the artistic exploits of three young Africans who are deploying their crafts ingeniously and creatively to project their countries.
In the vignette of the programme, CNN noted that "some artists use art to express what's within, while others use it to express an outside experience". The programme zeroes in on the poetic exploits of Chief Moomen, a versatile creative writer from Ghana who is showcasing the country's rich cultural offerings.
He regaled viewers with his trajectory to becoming a poet, how he is tapping into the wisdom of old to inspire the journey of tomorrow and his hobbies as well as what makes him tick as a Teaching Assistant at the Department of Theatre Arts of the University of Ghana.
It also featured a Nigerian graffiti artist, 34 year-old Osa Okunkpolor, popularly known as "Osa Seven" currently making waves through the utilization of graffiti to enhance the beauty of Lagos and at the same time communicating the history of the people of Lagos.
The University of Lagos graduate talks about the makeover of streets of Lagos in the #EKOTAG campaign which is the first of its kind and his other work like portraits of iconic characters to scenic images, brand designs, abstract art and tribal art designs.
The third guest, Zemba Luzamba, who originally hails from Democratic Republic of Congo but finds home in Cape Town, South Africa, introduced viewers to his paintings which chronicle the hardships experienced by African migrants including himself, who left his country when it was boiling in war to find peace in South Africa.
These interesting African artists told their compelling stories on CNN African Voices on CNN at 9.30 a.m. on Friday. Repeat editions will be broadcast at 3.30 a.m. and 1.30 p.m. on Saturday and 11.30 a.m and 6.30 p.m. on Sunday. Further repeats will be broadcast at 10.30 a.m. on Monday and 4.30 a.m. on Tuesday.