18,000 Lives Wasted in 130,000 Road Accidents?
News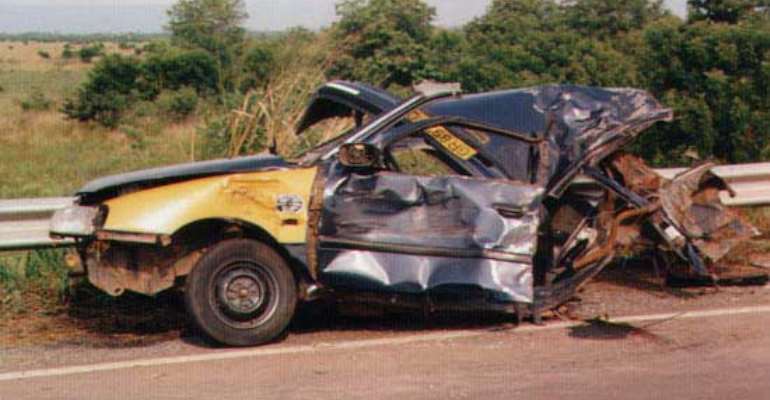 Between 1991 and 2004, a period of 14 years, over 130,000 road accidents were recorded in the country with more than 18,000 persons killed, 62,000 seriously injured and 90 slightly injured. In all, about 20, 000, vehicles were involved over the period.
The country also loses about one hundred million US dollars, or one trillion cedis, on road accidents alone annually. Road accidents also cause death, injury and loss of property to Ghanaians all the time. According to the National Road Safety Commission, for the first quarter of the year, 348 persons died through road traffic accidents and 2,885 persons were injured.
Even though these figures are lower than those for 2004, they are still unacceptable, since over 90% of road accidents are preventable. These statistics were revealed by an official of the National Road Safety Commission, responsible for Planning and Education, Mrs May Obiri-Yeboah. She made these revelations at a recent inauguration of a Non- Governmental Orgainsation, the 'Safe Roads for Us at Tema, in the Greater Accra Region.
Mrs Obiri-Yeboah, who is the Manager, Planning and Education at the Commission, expressed concern that at the current rate, it is estimated that between 2004 and 2010, a period of only six years, Ghana's vehicular population would increase to 1.2 million, road accidents would claim 12,000 lives and more than 40,000 people would be injured in the country if adequate, sustainable and cost effective counter measures are not put in place.
She revealed that the National Road Safety Commission with the support of stakeholders has developed a Five Year National Road Safety Strategy and Action Plan, whose objective is to break the upward trend in road traffic accidents and fatalities. One major responsibility of the Commission is to establish a nation wide road safety education for school children since pedestrians below 16 years of age account for 25% of road fatalities in Ghana.
Mrs Obiri-Yeboah said the NGO, 'Safe Roads For Us' has come at an opportune time when teaching materials have been developed for school children and the training of teachers in road safety has started in earnest.
Mrs Obiri-Yeboah explained that the Department of Urban Roads under the new strategy had identified five schools - cluster areas in the Accra metropolis where it is instituting traffic calming schemes and pedestrian facilities to get safer roads for children, later to be extended to other parts of the country.
She expressed grave concern at the not-so- easily estimable social cost of road accidents but pointed out that such cost include the burden on single spouses, members of the extended family, grief, school drop outs among other
She urged the general public to be pro-active when it comes to road safety issues and pleaded with children to be extra careful when crossing roads.
The Executive Director of 'Safe Roads For Us', Mrs. Rebecca Asembri, said road transport facilitates the socio-economic development of any community and country but paradoxically accounts for numerous road deaths and disabling injures and extensive property damage. The menace of road accidents is evidently a persistent problem, likely to become worse if the National Road Safety Commission in collaboration with stake holders like the MTTU, GRPTU, Cooperative Transport Union and other agencies do not deal with it collectively.
The aim of Safe Roads For Us is to inculcate amongst roads users, particularly children, the habit and practices which would translate into making the roads safer for all since children are the worst affected group. Children, she said, suffer gravely during road accidents with their growth and development hampered if their parents got either injured or killed in the process.
'Safe Roads For Us' was laying emphasis on children in particular because they can influence their peers, parents and guardians as well if given the right information on safe road usage practices. Another reason for targeting children is that knowledge and experience have long shown that good habits are acquired early in life thus with education on road safety in schools, children would be nurtured to become anew and safer generation of future road users.
The Executive Director deplored a fast emerging phenomenon on Ghana's highways causing undue hardship to motorists. It is the practice where residents in some communities construct crude speed ramps and other obstacles on roads to slow down vehicles passing through their townships. The practice was not only unhealthy but could lead to many serious but avoidable accidents. She believed educating children and adults about safe road usage could go along way in reducing pedestrian accidents and nip in the bud the emerging unhealthy phenomenon.
The new NGO presented to the Lorenz Wolf School in Tema, where the inauguration ceremony was held, a Seven -Step Road Crossing Guide as a lasting reminder to the children on what to watch out for in crossing the road.
Alhaji Mustapha Garba, the Coordinator for the Greater Accra Regional Road Safety Committee, who chaired the function, on behalf of the Committee, presented "Crossing the Road -Rules of the Road" material issued by the National Road Safety Commission to the School. He advised children on the safe point to cross on the road. He warned them against riding bicycles recklessly on the road and advised parents to accompany children under eleven years of age to school, or in default, and the even of accident, face prosecution.