Ultra-modern ICU For Yendi Hospital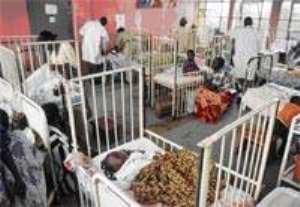 An ultra-modern $200,000 US-dollar Intensive Care Unit with Medical equipment has been established in the Yendi Municipal Hospital of Northern Region.
The project is funded by Ghana and Global Missions Resources Centre, Yendi to step up the activities of the hospital.
Reverend Emmanuel Kwabena Mustapha, Founder and Executive Director of Global Missions Resources Centre, Yendi announced this when he conducted Dr. Braimah Abubakari, Deputy Director for Clinical Care for Northern Region around the facility.
Rev. Mustapha indicated that Yendi Municipal Hospital served as the only referral hospital apart from the Tamale Teaching Hospital which is 73kilometres from Yendi.
He said in times of emergencies, people from the eastern part of the region depended on the Tamale Teaching Hospital, which was too far for some of the districts and now that the facility was provided at the Yendi hospital, critical cases from Tatale, Zabzugu, Saboba, Chereponi, Bimbilla, Wulensi among other districts could be sent there because of the proximity.
He said although the hospital was now having an Intensive CareUnit, bad roads and weak hospital Ambulance were issues that needed immediate attention and appealed for the upgrading of Yendi Hospital to a Teaching Hospital with more Doctors and Midwives.
Rev. Mustapha announced that 53 Medical Doctors and Nurses from United States of America (USA) were in the Yendi Hospital carrying out surgical exercise on over 200 patients with hernia, goitre, fibroid among others from all over the region.
He said apart from funding the facility, government and Global Missions Resources Centre, Yendi have also drilled five boreholes for four communities and a school in Yendi Municipality at the cost of $15,000 US dollars.
Dr Braimah Abubakari, Deputy Director for Clinical Care for Northern Region who received the Intensive Care Unit and the Medical equipment promised to put the facility into good use.
Meanwhile, Mr. Anthony Sopaal, Regional Training Coordinator said they were training 50 Doctors, Midwives and Nurses on Maternal Health Care delivery with participants drawn from Yendi, Tamale Central Hospital, Tamale West Hospital, Saboba, Mion, Zabzugu, Tatale, Nanumba North, Nanumba South and Gushegu Health facilities all geared towards quality maternal health care delivery in the region.
Dr Ayuba Abudulai, the Yendi Municipal Hospital Medical Superintendent said over the years most pregnant women died through bleeding during pregnancy due to lack of transport and had to resort to use of motorbikes to health Centres.
Dr. Ayuba explained that the training programme would help them to address some of the challenges they faced in the past and expressed gratitude to Global Missions Resources Centre and their counterparts and Joe Nogalski from USA.
He urged the participants to share whatever they had learnt with their colleagues when they go back to their communities.
The participants were taken through overview of maternal deaths in Northern Region, saving mothers post-partum bleeding, advance care and referral, fluid resuscitation, among other critical areas of health delivery.
GNA