Mahama Deserved To Be Ignored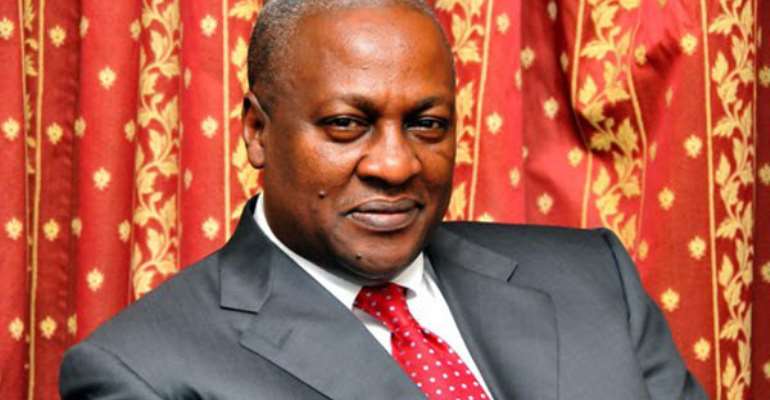 He ought to be aware of the fact that other than his handful of fanatics, former President John Dramani Mahama does not amuse the overwhelming majority of Ghanaian citizens with his monthly street-walking, political-pimping antics and tirades of uncouth insults targeted at the man who massively trounced him at the polls in December 2016 (See "Ayisi-Boateng Ignored Mahama in SA – Nketia" Classfmonline.com / Ghanaweb.com 1/4/18). The General-Secretary of he main opposition National Democratic Congress (NDC), Mr. Johnson Asiedu-Nketia, claims that the former President was in South Africa recently on an "official duty," but that Ghana's High Commissioner to that country, Mr. George Ayisi-Boateng, either failed or refused to welcome him.
This is obviously a great lie mischievously planted in the media and aimed at cadging sympathy for a man who ought to be serving a long prison term for wantonly and deliberately running the economy, culture and moral fabric of the country aground. It is a great lie because as a former President, Mr. Mahama had absolutely no "official duties" to perform in South Africa, because there is absolutely no evidence, at least as of this writing, that he had been assigned any official duties or mission in either Pretoria or any other city to perform inside South Africa by President Addo DankwaAkufo-Addo.
What is very likely to have taken the former President to South Africa was the recent impeachment of President Jacob Zuma. He most likely went there to commiserate with his well-known avuncular buddy and perhaps get President-In-Waiting Cyril Ramaphosa to issue Mr. Zuma a pardon, which had absolutely nothing significant to do with anybody in Ghana, except the traveler himself and his cronies and associates. Then also, who knows what businesses this Dubai Boy owns in South Africa?
At any rate, even as I have written quite extensively on the subject, what Mr. Asiedu-Nketia ought to be discussing is not whether, indeed, Mr. Ayisi-Boateng ignored the man whom General Mosquito (as Mr. Asiedu-Nketia is popularly known) publicly claimed had not won the 2012 Presidential Election but, rather, the question of whether, indeed, the "Atta-Mills Doctrine" exists, and what the latter means in terms of Fourth Republican Ghanaian political culture. You know, actions have consequences, and it is simply scandalous for the cynical likes of Mr. Asiedu-Nketia to facilely presume that, somehow, the operatives of the National Democratic Congress are above the laws of the land.
Then also needs to be highlighted the fact that career politicians like Mr. Asiedu-Nketia have a track-record of being unconscionable liars. There is, for instance, absolutely no evidence that, indeed, the former President had written to High Commissioner Ayisi-Boateng ahead of his alleged trip to South Africa, except Mr. Asiedu-Nketia's most untrustworthy claim that he had been informed to that effect by the unnamed secretary of the former President. And even if, indeed, the former President had written to inform Mr. Ayisi-Boateng ahead of his alleged visit to South Africa, there is no evidence that, indeed, Nana Akufo-Addo's diplomatic point man in Pretoria had received the letter prior to the arrival of Mr. Mahama.
We are also not told about the nature of Mr. Mahama's "official visit" that necessitated the presence of Ambassador Ayisi-Boateng, either at the airport or the venue of such official visit. As far as can be critically surmised, this is just another of the routine annoyances concocted by the pesky mosquito to get undeserved public attention and sympathy, and to make Mr. Ayisi-Boateng, a gentleman and a diplomatic operative of noble repute, feel bad. It is also clearly aimed at making it appear as if in refusing to cave in to grossly misguided pressure to fire Ambassador Ayisi-Boateng, Nana Akufo-Addo committed a serious error in judgment. Nothing could be farther from the truth and reality.
Visit my blog at: kwameokoampaahoofe.wordpress.com Ghanaffairs