A 12 - Year - Old Peace Ambassador Organised Press Conference @ TEMA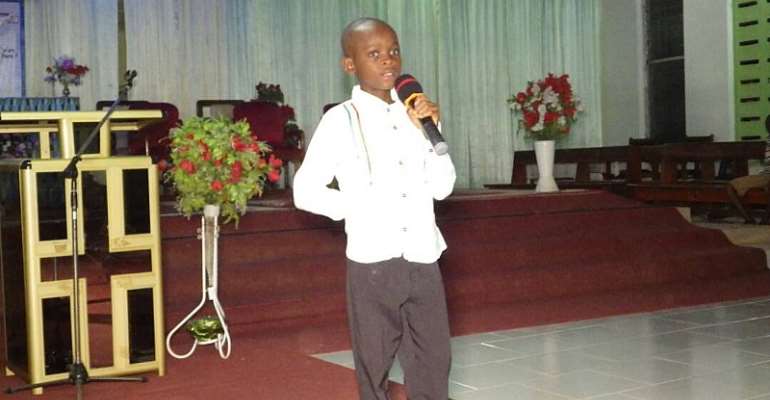 The 12-year- old peace ambassador master Hillary Elliot Dogbe from Kpando in the Volta Region on the 3rd January, 2018 had an encounter with the press at Tema in the Greater Accra Region. According to him, it is grievous and disheartening to live in Ghana surrounded by all manners of impurity and mist of all is the increasing rate of corruption cases.
He said, "it always bits my imagination and I wish to address it this way to seek your support for the total eradication of corruption in our Ghanaian societies for the better of our future". And what worries him most is the children today and those yet unborn are sufferers at the long run. Come to think of it, why allow ingenuity to devastate you and your children like this? Oh mother Ghana why does the public purse suffer so long from selfish and unpatriotic individuals?, he asked.
According to him 60 years of independence and Democratic dispensation and yet our dearest mother Ghana has not been self reliant because of corrupt practice that have engulfed the lives of most public servant in which they sit and lute the only country we have, all of it's riches and put us, the children now present and those yet unborn into perpetual indebtedness to our sister donor countries. Which will later in years to come, when all these deviants are long gone, run our generation into object poverty and perpetual servitude to these foreigners. Let me remained you my parents, my brothers and sisters that Osagyefo Dr. Kwame Nkrumah once mentioned "NEOCOLONIALISM is memorable saying on this very soil and it seems the causative agent has soon catch us up to the neck which is this CORRUPTION".
The highest ever rated economic and developmental cancer. I would like to sound this Gorgon, that we the future leaders of our beloved mother Ghana, can not afford to beg for bread in bread in days to come in our own homeland. No!!! Not today. Not tomorrow!!, he added.
Master Hillary Elliot Dogbe said again that, he wonder how some people are so heartless in the face of all these economic hardship colluded to tarnish one of the best ever educational policy in Ghana (thus the free SHS policy) just recently rolled out so that the food that your children will eat and grow and have sound mind to learn and become great leaders are sold out for personal gain, what interest have these people in killing the good policy like this prematurely?.
How could 12 individuals born and bread in lovely country of ours colluded and burn the NATIONAL PHARMACEUTICAL STORE IN 2015 for Ghc 3.5million in personal interest?. Whilst a lot of people die now a days because of no medicine. Could our medical service delivery pharmaceutical system not be better off by now?
How can our lovely mother Ghana be tossed by unpatriotic citizens being in position to misappropriate an amount of GHc32,498,000.00 in contract for what has not benefited us? Where are the trees for our forestry today?
Finally, how can well meaning (meaningful) Ghanaian's operate accounts for ghost GHc7.9million on 22, 612 ghost names, why do we suffers for others sake? all these he saw being disheartening and bits his imagination.
He therefore, listed some effects of corruption on children. Which includes, school dropout, poverty, lose of hope and aspiration, injustice, rebellion, increased child labour, high rate of unemployment, Expensive or poor economic conditions, abuse of human rights and freedom among others.
Source Christiana Ativi Oti radio