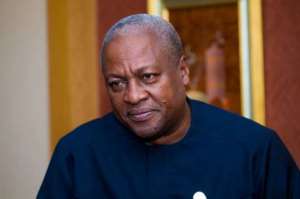 HE President Jerry John Rawlings, former President of Ghana and Founder of our great NDC party. Because of protocol and time, let me simply say, Comrades and Friends.
I want to thank you very much for the opportunity to be here with you this afternoon. And before I start, let me say fe yeye nami kataa (Happy New Year).
The existence of our party, the NDC, is deeply rooted in two historic events in Ghana, as you've been told by the General Secretary, the June 4 uprising and the 31st December Revolution.
Our party is in existence because of the occurrence of these two dramatic events, which changed the course of Ghana's history. Ghana has never been the same again since June 4 and 31st December. Unfortunately, many of our young people are not familiar with the history of these events and what caused them.
That is why when we commemorate occasions like this, it gives us the opportunity to recount some of the things that happened and led to the events of June 4 and 31st December for the benefit of our young people who did not live that period in our country's history.
Ladies and gentlemen, just briefly; at the time these two events happened Ghana's economy was in the doldrums. Ghana went through some of the worst suffering that we have ever gone through as a country and indeed we became the butt of jokes among our neighbours.
There is the often-told story about a quiz master in Nigeria, which was enjoying an oil boom, who during a quiz posed a question: In which country in West Africa do they queue for toilet paper? That is how far down Ghana had gotten. Of course, the participant answered correctly that it is Ghana, and the quiz master said, "correct for 5 points."
Indeed, at the time, our economy was contracting. When we talk about economic growth, it is either positive or negative. Your economy can be growing positively or growing negatively. At this time in Ghana's history, our economy was growing negatively. This meant that instead of the economy expanding, it was contracting and becoming smaller.
Aside from that, we suffered a brain drain. Most of our qualified people began to leave the country. Teachers and doctors and nurses and anybody with any professional skill drifted from Ghana to Nigeria. What made things worse was that in 1983, we had a severe drought that affected agriculture- there was no food.
You heard Comrade Nuamah Donkor tell you they had to go and queue for un-boiled kenkey. People could not wait for the kenkey seller to boil the kenkey, so you queue and when she is done wrapping it, you take the kenkey home and boil it yourself. That is how bad things became. Our women left the shores to either go and trade in material goods or in biological goods. In 1983, Nigeria deported one million of our colleagues to come back home.
The new government that had come in – it was a young government at the time – rose to the task, accepted our colleagues back, settled them and began the task of rebuilding the economy and the rebuilding the nation.
Today, a lot of things that we take for granted are the result of the work that was done in that period of the PNDC. The PNDC ushered Ghana into a new era of stability and we have enjoyed political stability since then. Those are some of the dividends that we are reaping in today's Ghana.
PNDC began a strong infrastructural development, repairing the roads, extending the telecommunication network, providing water and electricity to our people. The PNDC bequeathed unto us the current local government system that we are operating successfully.
So, when we talk about these things, and we commemorate events like this, we do so that the younger people will know from where we have come. This is because your future cannot be guaranteed if you do not remember your past.
You can only go forward if you know where you are coming from. If you lose orientation of where you are coming from, then it makes it difficult for you to forge ahead.
Probably one of the most intangible benefits – because it's not something you can see like water or electricity or roads, but most significant, more than any other thing the PNDC did – was the values that it left us. The values of Probity and Accountability.
I daresay that in the events of June 4 and 31st December, the highest and ultimate price was taken for some people. Some lost their lives, others lay down their lives, in order to ensure the values of Probity and Accountability. As a result of that, when the 1992 Constitution was written, Probity and Accountability were inserted in the Directive Principles of State Policy as a value that Ghana must continue to pursue.
There are differences in the fight for probity and accountability in a revolutionary era and in a democratic era. In the democratic era, you have the laws, you have the Constitution and many others that make the wheels of justice grind slowly. In the revolutionary era, you have the tribunals; in the democratic era, you have the courts.
In the democratic era, you can only keep any person for 48 hours without charging him; in a revolutionary era, you can arrest him if allegations are made against him, and you can keep him until he has been tried.
But we cannot throw our hands in the air and say we can do nothing about upholding the values of probity and accountability. Our party, the NDC has played a very significant role in the democratic consolidation of Ghana. Being a direct product of the PNDC, and the PNDC having created the foundation for democracy to thrive, our party has been in office for two continuous eight year terms and we have contributed significantly to the progress of this country.
I must say that elections are not just about winning. They are also about losing. You cannot always win. Sometimes you lose. Mandela said the glory of living is not about how many times you fall but how you pick yourself up after falling.
We came into government committed to undertaking a series of reforms and our governments from the PNDC era have had that courage to undertake some of the reforms that are very difficult for other governments to take. The PNDC created the floating foreign exchange regime. Nobody thought it was possible.
Dr. Busia tried to devalue the currency, he was removed from office within two years. Yet, during the PNDC time, forex bureaus were introduced and the Cedi was allowed to find its own value. There were many other reforms that we have undertaken in the democratic era. Very good programmes that we have introduced to Ghana- under NDC 1, GETFund through which there has been a phenomenal introduction of educational infrastructure across the length and breadth of this country.
In the last four years, because of the need to undertake some important reforms, in order that the economy can grow exponentially, we must have created some hardship for the people of Ghana, and I will be the last to run away from that fact. And when you have an opportunistic opponent willing to take advantage of any such difficulty, then you have the kind of result that we all found.
Like I said, it is a loss all the same, and in English they say there is no use crying over spilt milk. However you stand over the milk and weep, the milk has been spilt. What we need to do is to find out what happened, which we have done continuously the whole year – with Kwesi Botchwey reports and debates in all parts of the party about what happened – but as I said before, as the Commander who led the army into battle I must take ultimate responsibility for that loss, and I continue to take ultimate responsibility for the loss.
A lot of our wounds were self-inflicted and I am sure that there are as many opinions about what caused our loss as there are members in our party. But I must say that NDC will rise again. NDC will rise again, and I am sure that all of us are learning our lessons and those lessons will guide us to undertake the major significant steps that we must take to put the party back into shape to be able to contest the elections of 2020.
At this juncture, I want to commend the National Executives of our party and the Council of Elders for the bold decisions that they are taking in reorganising our party. Next year is going to be a busy year for all of us and I call on all our supporters and activists to fully participate in all activities that the party has outlined, beginning with the registration exercise that starts in January 2018.
In January and February, we are going to conduct a re-registration of all our party members. This re-registration is not going to take place at the national or regional headquarters. It will take place at the branches and so, everybody if you are a true member of the party must go back to your branch and go and register.
I am going back to the District Assembly Branch of the NDC in Bole to go and register as a member of the party. After that, we all know what will happen. Branch elections, constituency elections, regional elections, national elections and eventually culminating in the election of who will lead us into the elections of 2020.
Today, we are all living witnesses to the reality of the NPP's administration. It is only time and the people of Ghana who will be the judges of this administration. But just to touch a bit on what the General Secretary was talking about – Justice.
When justice is depicted as an effigy, it is a woman holding a sword in one hand and a pair of scales in the other. One of the things you notice about the statue of the woman is that she wears a blindfold. It means she can't see, and the motto under the effigy is 'Justice is Blind'. It means it is administered without prejudice to whoever comes to seek justice.
Now, recently, President Akufo-Addo was threatening members of our administration with prosecution when he visited the Eastern Region. And I must say, yes, we are prepared to accept the searing probity of our tenure in office. Having been the disciples of probity and accountability, we must not run away from probity and accountability; we must be prepared to face any prosecution that this government wants to throw at us.
But we must do this with commitment and solidarity. Solidarity with our colleagues who will fall foul of the law because the law says you are innocent until proven guilty. We cannot pronounce our colleagues guilty on the basis of allegations by the NPP.
They will have their day in court and until they have that day in court, it is our duty to solidarise with them, to make sure that they have the best legal representation to be able to put their case before the court. And it is my wish that things will turn out well for them. Let us express solidarity with our colleagues.
Let me point out that the easiest part in the fight against corruption is prosecuting your political opponents. It doesn't take courage, it doesn't take bravery; it is easy to prosecute one's political opponents. The true test in the fight against corruption is holding your own people accountable when they go wrong. And that is what Asiedu Nketia was talking about.
We must not pursue post-regime accountability. We must pursue accountability even as a regime exists. So yes, we are prepared to face accountability, but it is our hope that the knife will cut both ways, and that even as you pursue your political opponents you are also pursuing members of your government who are proven to be corrupt.
Let me end by saying that the tragedy of our democracy is the hypocrisy of our moral and civil society. In Ghana, we have two yardsticks for measuring governance, depending on which party is in power.
One yardstick is used to measure the NDC and when the NDC is out of power, that yardstick is taken away, and a new yardstick brought to measure the new party. I wish to say that heaven has only one gate. It doesn't have two gates. The same yardstick God uses to measure all of us. And God is infallible. He makes no mistakes. He will judge us come the day based on how truthful we have been in discharging our duties to our fellow human beings.
I thank you very much, and God richly bless you.