Re: UEW Council Chairman and Rev. Afful-Broni Destroying the University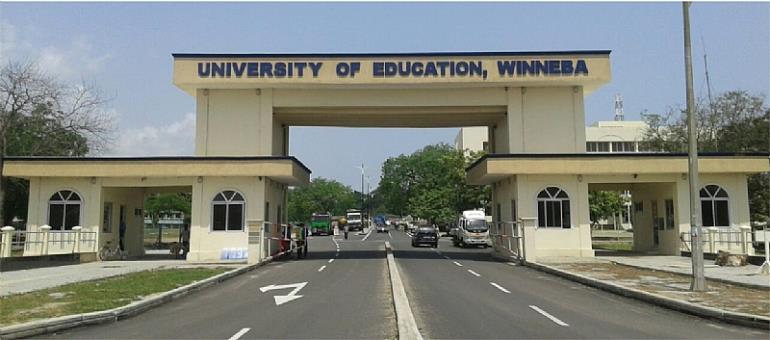 The interdicted VC and his gang, are now diversifying from the 'Lone Ranger' Prof. Victor K. Owusu, to multiple laughable sources. It started with a certain Patrick Adu-Bortsie, then to that sorrowful Prof. Kweku Sofoh, and now this confused, and poor soul, Eric Appiah. All pseudo names emanating from the same source.
If President Nana Akuffo-Addo erred by appointing Prof. Abakah as the governing council Chairman as argued by Eric Appiah, nothing stops him from going to court to argue the contents of his sick mind. After all, some lawyers too 'must eat'. It does not matter how useless one's case appears; some lawyers will still insist, for the sake of the legal fees, and assure stupid fools like Eric Appiah:, "you have a solid case, and we will win hands down". One does not need to be a voodoo priest like his paymasters to come to a conclusion that Eric Appiah is a psycho and pathetic liar writing under a pseudo name.
If there is a law that stipulates a maximum number of council meetings to be organised within a certain period, and this has been breached, making useless noise in the media as Eric Appiah has done will serve no purpose. He should head to court and seek an enforcement of the law that the UEW governing council Chairman has violated.
Eric Appiah should go and check the Financial records and he will learn that there has been no changes in payments made to council members. If anyone has evidence to the contrary, let them head to court!
If the council Chairman has no authority to issue Press Statements, what stops Eric Appiah from going to court?
Vacant positions of Deans and Vice Deans, are supposed to be advertised internally, and prospective applicants interviewed, before successful ones are appointed, per UEW Statutes. The interdicted VC failed to advertise any of those positions. Of course he had been asked to step aside, but felt he still needed to give jobs; so he singularly appointed his wife, together with all former executives of UTAG UEW as a form of inducement to court UTAG support at the start of his woes in July 2017.
Since those appointments were riddled with procedural errors, it was legally perfect to revoke them. Anyone who has a problem with this can go to court.
Those vacant positions were then advertised by the new management; over 30 applications were received from qualified staff; interviews held, and successful applicants appointed. The records are available for any level headed individual to cross check.
Interestingly, Eric Appiah failed to mention in his garbage presentation that the 'Business School where I am the Coordinator doesn't exist'.
The proposal for the creation of the School had been long submitted to Prof. Avoke but he didn't see it to be necessary. It was not a contract signing to bring a percentage as a kickback to him, so he shelved it. The interdicted VC didn't stop there. He went ahead and transferred the Head of Department of the Business Education Department at that time, and brought one of his 'foot soldiers' to take over as the Head of Department, to deal with me in particular. As the old adage goes, "man proposes, but God disposes". The interdicted VC proposed to show me, but God disposed him off. No 'wahala'!
For the benefit of Eric Appiah and other individuals with such shallow thinking, the Ag. VC quickly moved into action, and created the Business School in August 2017, only weeks after taking over, and went further to maintain the interdicted VC 'foot soldier', as one of the four (4) Heads of Department. Per UEW Statutes, the positions of Head of Department and Coordinator, are appointed by the VC without the requirement of adverts and interviews.
Most faculties and Departments have Coordinators. Therefore, when the Business School was created in August 2017, it was not only the position of Coordinator that was created, but the vacant positions of Dean and Heads of four (4) Departments, etc.
Why this dickhead Eric Appiah, chose to only hammer on the Coordinator position, is left with readers to draw a conclusion on.
Anyway, as I mentioned in my previous responses to Prof. Victor K. Owusu and all those losers, if my appointment as Coordinator at the Business School of UEW, has violated any Statute of UEW, or any relevant law of the Republic of Ghana, please head to court and have my appointment revoked, just as Supi Kwayera, the 'common akpeteshie seller', went to court to get Prof. Avoke and Dr. Ackorlie removed.
If any staff of UEW has been denied leave and is subsequently dismissed, does one even have to have read law in class one to take such a case to court and win? Eric Appiah erred gravelly by referring to the official in question as UTAG UEW Vice President. UEW has no UTAG Executives!
If UEW Statutes stipulate that a College Principal has overriding authority over the Ag. VC, and based on the said Statute, the College Principal authorised any staff of UEW to take advantage of a Fulbright Fellowship, and someone is holding an opposing view, then again, what stops Eric Appiah from going to court?
With regards to the north campus dual carriageway project, awarded by the former VC Prof. Akwasi Asabere-Ameyaw, enough publication has been done on it, so no need to say much.
By the way, the said road project was awarded illegally, under that questionable Memorandum of Understanding (MoU) with Ghana Highway Authority (GHA). The Public Procurement Act 2003 (Act 663), as amended, is the governing legislation in the award of all contracts by state entities in Ghana, without exception. So for anyone to go and craft a silly and phoney deal with GHA with the crooked hope of using the said MoU as a vehicle to siphon public funds, was illegal at birth.
A legal duty rested on Prof. Avoke on assumption of duty as VC of UEW in October 2015, to have done due diligence and cancel the MoU with GHA, and go further to distance himself from that sham. The question is, did Prof. Avoke, whom you are blindly defending, do this? Even an incompetent person could have done this. What do you think Prof. Avoke is? A woeful failure!
Contracts that were awarded in accordance with the Public Procurement Act 2003 (Act 663), are proceeding without any hiccups.
If there is a law that provides that the UEW council Chairman has no right to use a guest house on campus when in Winneba for official or unofficial business, do I have to continue to educate this nonentity Eric Appiah, as to the way forward? Go to court!
Life is only dead for caricatures like Eric Appiah at UEW. Nothing stops anyone in this world from leaving a job, so if any staff wants to leave UEW, they only have to follow the laid down procedure. In any case, Eric Appiah is complaining of a staff of UEW 'being dismissed' for travelling without the permission of the legally constituted authority of UEW. He is definitely not happy with this. So why is it a concern to him, if most "lecturers are making arrangements to leave the university"? Contradictory, isn't it? And this is a Professor?
Do I need to tell you the type of character Eric Appiah is? He is cheap and lacks brains, just like the disgraced Prof. Victor K. Owusu, Prof. Kweku Sofoh and the misguided lot, who lack any sense of rational direction to take their concerns to court.
Any contractor awarded those questionable contracts is at liberty to sue UEW, but I guarantee you that such an adventure would be an exercise in futility. The Consultant's reports on all those projects concluded that none of the tenderers was qualified, yet the interdicted VC and FO arrogated unbridled powers to themselves and awarded those contracts.
The questionable contracts awarded by the interdicted VC and FO could have collapsed the UEW GUSSS, if they weren't detected. The contract figures were over bloated to enable some bent UEW official take a cut. Therefore, the current legal tussle is a means of saving the contributions of GUSSS members from being siphoned by the interdicted VC and his stooges.
No matter what is said about the current UEW governing council Chairman, he is going nowhere. Only a court order can remove him from office. It is as simple as that! So the only option open to all those not in support of Prof. Abaka's appointment as UEW governing council Chairman, is a court action. All the empty noise in the media, will have no effect whatsoever!
Alhassan Salifu Bawah
(son of an upright peasant farmer)