IGP charges officers to strictly enforce laws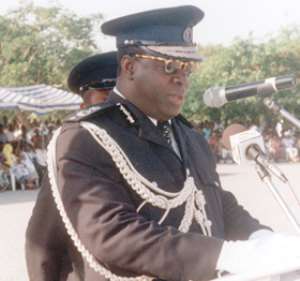 Accra, July 24, GNA - Mr Patrick Acheampong, the Inspector General of Police on Sunday charged senior police officers in-charge of regions, districts and divisions to refocus their attention towards the strict enforcement of police procedures and regulations.
He said they must do this to enable their subordinate to discharge their duties more effectively and efficiently.
The IGP, who said this in a statement copied to the Ghana News Agency (GNA) on Sunday also asked the officers to adopt more innovative methods in dealing with the emerging trend of violent crimes in the communities and other public places.
Mr. Acheampong said the success of such a task required that they solicit public support by encouraging good performance from their subordinate police officers.
He made these remarks when he addressed 200 senior officers drawn from the headquarters and other stations in Accra, Tema, and Eastern Region during a review of Service's activities for the past three months.
The IGP expressed worry about the persistent public complaints of unprofessional conduct of personnel, especially in their turn out, attitude towards the public and corruption at barriers.