VEEP calls for unity in NPP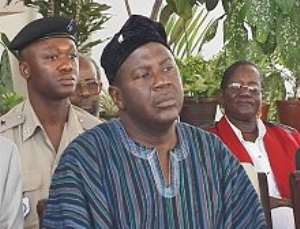 Bawku, July 24, GNA - Vice President Alhaji Aliu Mahama at the weekend, appealed to supporters of the ruling New Patriotic Party (NPP) to put the unpleasant events of Election 2004 behind them, and re-unite to advance the cause of the Party.
He noted that even though some misunderstanding had occurred among party members and supporters, they should "let by-gones be by-gones" and give the party their full support.
"We want to see the NPP in Bawku bounce back to its former enviable position, as the bedrock of our party in the North," he said. Alhaji Mahama was addressing a large crowd of supporters of the party at Natinga section of Bawku, a strong hold of the NPP, as part of a six-day working visit to the Upper East Region.
He said the Party was larger than any single individual and that they should not let one particular person destroy what they had built in the past 30 years.
The Vice President had earlier asked for a minute's silence to be observed in memory of the late Mr Imoru Salifu, one of the leading figures of the NPP, who passed away about two years ago. He explained that the gesture was significant because "a nation that does not honour its heroes is not worth dying for".
Alhaji Mahama urged members of the Party to emulate the selfless sacrifices of the late Salifu, who devoted his entire political life to the building of the Danquah-Busia Tradition.
He expressed satisfaction about the return of peace to Bawku, and appealed to the people to bury their differences and support government's efforts to bring development to the area.
The Vice President also called on parents to send their children to school, explaining that education was the only way they could eradicate poverty and ignorance, which is the bane of progress.
Alhaji Mahama thrilled the crowd with a rare display of his skills in the "damba" dance, when he responded to the beat of traditional drummers, which drew long cheers and applause.