"Rebecca Adjei-Sarpong Is The Best Choice For Npp-Germany" Kwabena Ebow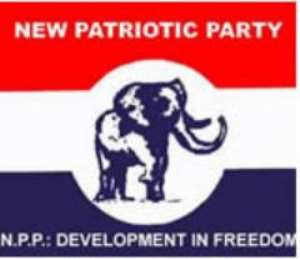 A leading member of the Germany Branch of the New Patriotic, Mr Kwabena Ebow has noted that the best person to lead the Germany Branch for the next four years is Mrs Rebecca AdjeiSarpong popularly OBAATANPA BECKY.
According to him, leadership is about the clarity of vision, the ability to rally people behind that vision and a determination to succeed in the face of challenges. "These are the virtues and strengths which the Chairperson Aspirant, OBAATANPA BECKY has demonstrated for the past two decades of her political career"
Speaking on OBAAPA RADIO on Wednesday, Mr Ebow said, this explains why Mrs RebeccaAdjei Sarpong commands such huge grass-root support among the rank and file of NPP members across the length and breadth of Germany.
Mr Ebow disclosed that a ten-point action, plan setting out her vision for the party would be out-doored in Hamburg on Saturday 6 January 2018.This will to give party members and supporters a clear sense of direction and purpose, and what members should expect when she is given the mandate to lead the party.
He explained that the Chairmanship contest is a referendum on the performance of all the candidates, their commitment and contribution to the party both here in Germany and Ghana and said, "In terms of commitment and contribution towards the party, OBAATANPA BECKY stands tall among all the contestants for the Chairmanship position"
The NPP Activist, indicated that OBAATANPA BECKY's Campaign would be issues-based and not interested in the politics of insults and personal attacks. He was, however, quick to add that "any unwarranted attacks on the person of our candidate, seeking to tarnish her hard-won reputation and well-deserved image, would receive an equal response"
He therefore cautioned all contestants for the various positions to focus on what they can offer when elected to the various offices and avoid utterances that tend to divide the party and said this election is not about who can trade the worst insults but who has the best policies and programmes for the party.
According Mr Ebow preparations towards the campaign Launch in Hamburg and the ALL WOMEN CONFERENCE are complete, and encouraged all members to be present at this historic occasion.
Signed
Mavis Awo-Dapaah (Tel: 004915213279476/ 004915216787708)
Spokesperson for Mrs Rebecca Adjei-Sarpong (Chairperson Aspirant)
For More Information about the ALL WOMEN CONFERENCE AND MANIFESTO
LAUCH, please contact
Mrs Evelyn Garbrah (0049 17627184218)
Mr Augustine Opoku (0049 17662347283)
Mr Brenya Benson (004915254210284)