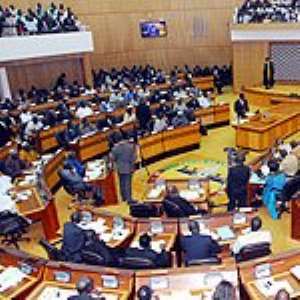 It was all to be expected that the National Democratic Congress' Parliamentary Minority would not approve of the 2018 Budgetary Statement read before the Full-House by Finance Minister Kenneth Kuntunkununku Ofori-Atta (See "Parliament Approves Budget Without Minority" Starrfmonline.com / Ghanaweb.com 12/5/17). It was all to be expected that the Haruna Iddrisu Gang would roundly reject the Ofori-Atta Budgetary Statement, because the Finance Minister is easily and at once the most feared and hated cabinet appointee of the Akufo-Addo Administration. He is also easily the most astute and knowledgeable Finance Minister that the country has had in a long time.
But even more importantly, the main objective of the NDC's Parliamentary Minority is to ensure at all costs that President Addo DankwaAkufo-Addo fails, so that they could, once again, trot in their team of impenitent and unconscionable nation-wreckers to continue with their perennial agenda of returning our country to Stone-Age culture.
Of course, they will never succeed. The Haruna Iddrisu Gang tremulously sees the proverbial handwriting on the wall, thus their recent timid decision to approve of the budgetary allocation for the Mavis Hawa Koomson-led Ministry of Special Development Initiatives (SDI), when they were fully convinced, and perhaps rightly so, that the Ministry of SDI's budgetary request statement's presentation to the House was scandalously bloated.
The fact of the matter is that as the jaded cliché goes, "Time and tide waits for no man." And no woman, as well, we hope. But what intrigued me, though, was the bitter complaint from Mr. Iddrisu, the Tamale-South's NDC-MP and Parliamentary Minority Leader, that the President had dared to name some of the proposed programs captured in the 2018 budgetary statement after himself. And why not, since such programs were uniquely the veritable products of his own ingenuity or genius, and very likely would have been cynically shot down in a jaundiced parliamentary debate, if they had been generically presented as an Everyman's Program.
The Iddrisu Gang can be forgiven for thinking that the Head of the present government has absolutely no right to name any taxpayer-underwritten projects and programs after himself. Has this career politician ever heard the name of President Kwame Nkrumah, or Kwame Nkrumah Circle, Kwame Nkrumah Hall, at the University of Cape Coast, and the Kwame Nkrumah University of Science and Technology, or J. J. Rawlings' Park, or Busia Park or Kotoka International Airport?But then, again, whoever said that procedural novelty has no place in Fourth Republican Ghanaian political culture? Of course, it does! The comical edge here, though, is for Mr. Iddrisu to so facilely assume that without naming any of these progressive policy initiatives after himself, Nana Akufo-Addo completely loses out on any attempt to ensure or institutionalize his own immortality.
Now, that is inexcusably absurd, because being named or elected to the Presidency is by its very nature an inescapable act of institutional canonization and, in effect, the legitimate establishment of one's own immortality. Well, in the news report right in front of me, no specific details are provided vis-à-vis which budgeted programs are imprinted with the name of Nana Akufo-Addo. Not that it would have mattered, anyhow, vis-à-vis this write-up. What is crystal clear here is that if the President woefully fails to take the bold initiative of personally owning up to his most progressive and seminal programs, sooner than later, the creatively moribund NDC key operatives would be swearing Heaven and Earth that it was they who either created or invented these programs and policy initiatives.
You see, the fee-free Senior High School initiative was deemed to be woefully unsustainable in the cynical and self-serving imagination of the key operatives of the National Democratic Congress, until Nana Akufo-Addo boldly and fearlessly took ownership of the same. And then one of the constitutional law gurus of the main opposition party deviously decided to have the same written into statutory law or edict, thereby mischievously claiming the same to have always been owned by the nation as a whole.
You know, the Iddrisu Gang thinks that by voting in unison and in uniformity with the Parliamentary Majority, they would be digging their own proverbial graves, literally speaking. The problem here, though, is that these Cash-and-Carry Social Darwinian Ideologues have absolutely no other alternative. For ultimately, it is merely a question of whether the NDC hoodlum pack would either dig their own graves themselves, or have their graves inexorably and inevitably dug for them. At least in choosing to dig their own graves, the NDC apparatchiks can be assured of deciding the texture of earth or soil in which the want to be interred.
*Visit my blog at: kwameokoampaahoofe.wordpress.com Ghanaffairs