Otumfuo Rallies Nation To Pull Together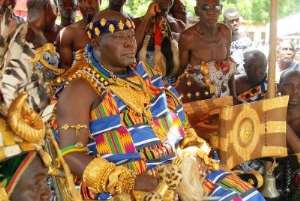 Otumfuo Osei Tutu II, the Asantehene, has rallied Ghanaians to pull together to make things happen - grow the economy and bring progress.
He said everybody should have a part to play in the task of building a society that worked for all.
Otumfuo Osei Tutu made the call at a special service held by the Asante Presbytery of the Presbyterian Church of Ghana at the Manhyia Palace.
He underlined the need for everyone to uphold the values of transparency, accountability and truthfulness, where they found themselves.
These should be combined with hard work and sublime qualities of humility, sincerity and tolerance.
The Asantehene added that the expectation was that the people would live up to their civic responsibilities as citizens in the New Year.
He encouraged the church to provide the right leadership to purge the society of corrupt practices, anything evil and toxic to the moral health of the society.
He reminded the church that it had a duty to influence positive change - transform the lives of the people.
The pulpit, he said, should also be used to promote unity, peace and good neighborliness.
Otumfuo Osei Tutu asked the church to support him with prayers so that he would have the courage to do what was right in the performance of his traditional duties.
'As a king, I always need divine assistance in order to take bold decisions', he stated.
He thanked God for his abundant mercies and blessings in the past year, and said he was hopeful that more good things would be happening to the nation, this year.
The Reverend Dr. Kofi Amfo-Akonnor, Chairperson of the Presbytery, said the special service was part of the church's 'Mission to the Palace' programme, which aims at strengthening relationship between the church and the chieftaincy institution.
He spoke of the church's unwavering resolve to scale up the spread of the gospel to give confidence and bring salvation to the society.
GNA
By Stephen Asante, GNA