President Akufo-Addo Gives Assent To Special Prosecutor Bill, 4 Others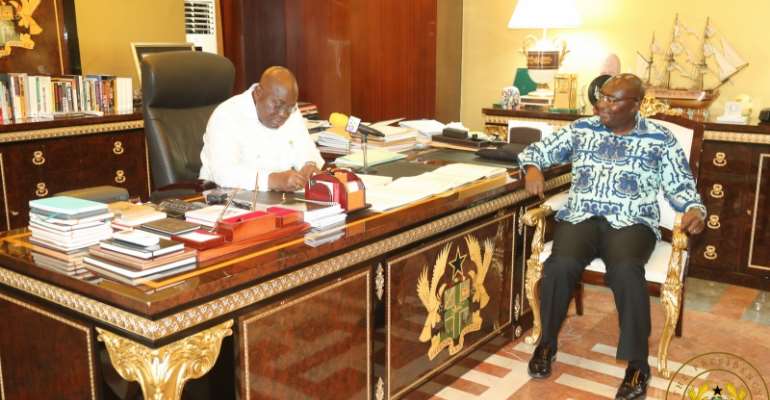 The President of the Republic, Nana Addo Dankwa Akufo-Addo, has assented to the Bill for the establishment of the Office of Special Prosecutor, at a brief signing ceremony at the Flagstaff House, on Tuesday, 2nd January, 2017.
In the presence of the Vice President, Alhaji Dr. Mahamudu Bawumia, President Akufo-Addo also signed the Bills establishing the Zongo Development Fund, the Coastal Development Authority, the Middle Belt Development Authority and the Northern Development Authority.
These bills, according to President Akufo-Addo, are "some of the most important elements of the New Patriotic Party's (2016) manifesto, upon which we were elected into office", and "have now found legislative expression."
Signing the Bill for the establishment of the Office of Special Prosecutor, President Akufo-Addo stated that "my hope and expectation is that the establishment of this office is going to be an important step in our collective determination to root out corruption in the public life of our country."
The President continued, "All of us know it (corruption) is a major bane in the development of Ghana, and, hopefully, this office will make sure that public officials, past and present, are held to account for their actions, and that corrupt acts will no longer go without investigation, and, if necessary, sanction, once due process has been respected."
On the establishment of the Coastal, Middle Belt and Northern Development Authorities, President Akufo-Addo explained that, in the course of the 2016 campaign, the political leadership of the NPP made it clear it wanted to try a new approach to the development of Ghana – a new approach which went to the decentralisation of the development paradigm.
This, the President said, is because the centralised approach to development witnessed in the aftermath of Ghana's post-colonial life has not been successful in delivering development at the grassroots of the society.
"Therefore, we made this commitment that we will spend on each constituency, every year, the equivalent of $1 million. These Development Authorities, which are now going to be put in place, will be the vehicle for the management of these funds, and the expenditure of the equivalent of $1 million per constituency commitment," he added.
Explaining the rationale for the enactment of the Zongo Development Fund, President Akufo-Addo indicated that "we have insisted that this particular community, the Zongos, require a special consideration from our development initiatives, for reasons that are obvious – the deprivation and under-development that has characterised the lives of the peoples of the Zongos.
"It is not something that a healthy society can tolerate, and it is important that affirmative action of the sort is taken to address the needs of the Zongos. That is what the establishment of this Fund is going to try to do."