Lead Contender For NPP Germany Chairmanship To Launch Manifesto In Hamburg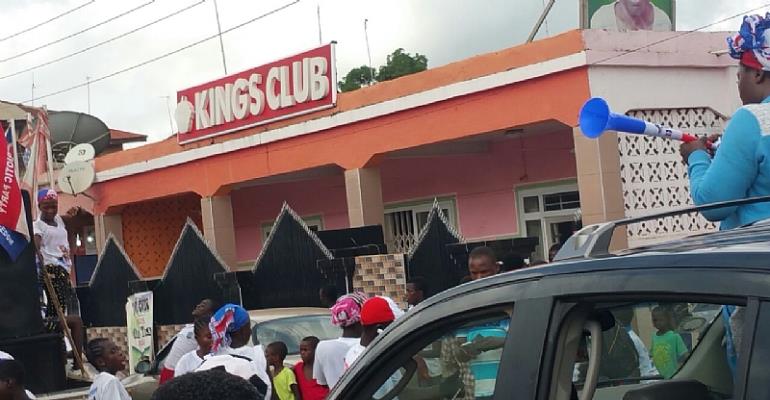 The leading contender for the NPP Chairmanship position in Germany, Mrs. Rebeca Adjei Sarpong popularly called OBATANPA BECKY, will officially launch her manifesto and campaign in a grand style on Saturday,January 6 2018 in Hamburg
This grand event which takes place at Ubersseering 13, starts at 12.pm and will bring together sympathisers, party supporters and senior party officials both in Ghana and Germany, most whom have thrown their support behindBecky's Chairmanship bid.
The Manifesto and Campaign Launch is the first of its kind in the history of NPP-Germany and would enable the candidate to spell out her vision for the Germany Branch and provides an opportunity for the rank and file of the party to meet and interact with the aspiring chairperson.
In clear demonstration of their support for the Chairperson aspirant, there would and an ALL WOMEN Conference on Friday, January 5,2018 to precede the Manifesto and Campaign Launch. The purpose, is to enable Women in the party to come out with plans and strategies to support Women contesting for positions in the forthcoming Branch Elections scheduled for March 17,2018.
To ensure maximum participation, free accommodation for all the Women attending the Pre-Campaign Launch event on Friday 5 January, has been secured in a four-star hotel and is available to all who may be interested in taking advantage of such a facility. Services that would be offered include Dinner, Breakfast and Accommodation for which participants would not be required to pay or make any financial commitments.
In view of the importance of the forthcoming branch elections, and the urgent need to chart a new course for NPP-Germany, all Women are encouraged to be part of this history making event which could see a Woman leading one of our External Branches.
It is important to stress that Mrs Rebeca Adjei-Sarpong, the aspiring Chairperson, has been an active political activist for more than two decades. She founded the Cologne Chapter of NPP and was elected Chairperson for two consecutive terms. She is currently the second vice-chairperson of the Germany Branch of the party.
Her political activism is not limited to Germany. In fact, she was part of the Akuffo-Addo Campaign Team that toured the length and breadth of Ghana during the 2016 elections which brought the NPP to power.
Her immense contribution towards the party would be made public after the official campaign Launch. What NPP-Germany needs and deserves at this crucial stage is a new type of leadership with a new vision to steer the affairs of the party in a new direction. Hence, our slogan for the campaign is New Vision, New Direction: An Agenda for Progress
The Special Guest for the event is Mr Henry Kwabena Kokofu, Former Honourable Member of Parliament for Bantama
Signed:
Mrs Marvis Awo-Dapaah(Tel. 0049 1521 3279476 / 0049 1521 6787708)
Acting Spokesperson for Mrs Rebecca Adjei-Sarpong (Chairperson Aspirant)
For more Information about the event and accommodation please contact the organisers.
Mrs Evelyn Garbrah (Tel.0049 1762 7184218)
Mr Augustine Opoku (Tel. 0049 1766 2347283)
Mr Francis Brenya-Benson (0049 1525 4210284)
Manifesto and Campaign Launch
Venue: First Foundation Event, Uberseering 13, 22297 Hamburg
Date: Saturday 6thJanuary 2018
Time: 12.00 pm