Ghana Getting Serious: Sustainable Development Goal 4 In Context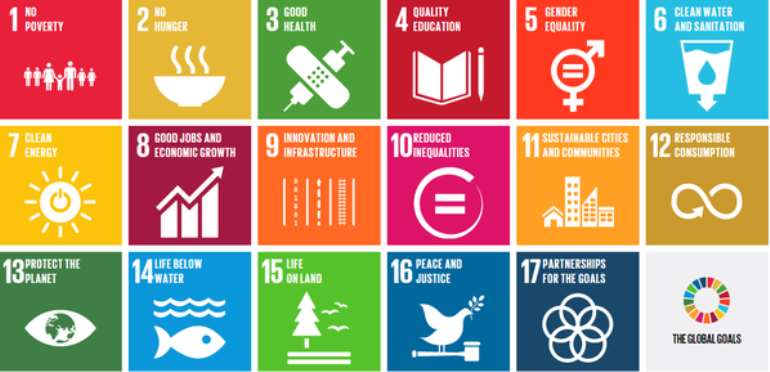 Nelson Mandela once said 'Education is the most powerful weapon you can use to change the world'.
My dream and desire of living in a country where all parts of the country are urbanised, good roads scattered all round, good communication network, portable drinking water, tons of industries, service industries thriving, mechanised farming, technological advancements, high human and natural resources development, good inter personal relations and a legally sustained environment can never come an end. Indisputably, the key force behind such an ideal world is only dependent on thinking and critical analysis.
Education has been the ultimate tool used by the developed world to equip their citizens with the systematic process of acquiring knowledge, skills, values, behaviours and habits. The need for developing countries to concentrate and invest in this key subunit of development through a rigorous strategy termedan all-encompassing form of education to remedy their geo-dynamic demands cannot be left out.
Ghana's continuous strive for rapid growth makes it essential for us to devise a comprehensive accessible, just and sustainededucational system which embraces all sexes, the disabled, technical, vocational, formal education, scholarship positions, computer and internet oriented learning. This I conceptualise as an inclusive and quality education.
Over the years, the nature of Ghana politics has bred a system which I call the merry go round system. This so because, I think deliberate attention has not been paid to our educational system; the core foundation of Ghana's development. The Ghanaian politics can be likened to the relations that exist between a rich man and a poor lady who desperately needs money for food. I draw the above inspiration from how much focusour political actors who we mandate to judiciously distribute our resources to better lives shift their to certain social welfare structures which will readily enable politicians capture power at the detriment of our talented human resources development.
The likes of the politicization of the duration of the Senior high school as well as its freeness, inadequate teaching materials and low patronage of the informal and non- formal phase of education puts the nation at a critical juncture hence our vulnerability to the stronger nations. It is in this respect, I driven to write to inform the public on the needto show a strong commitment to Sustainable Development Goal 4 which call on member states of the United Nations to create conducive environments for an inclusive and quality education through the promotion of a lifelong learning opportunities as means to attaining full development.
To begin, the relevance of inclusive and equitable education will promote the nurturing of more critical thinkers. Education is the back bone of many countries. Most developed countries like USA, France, Germany, China and Britain (to mention a few) have successfully transited from their primitive way of living to a highly industrialized and consumption stage because it has an encompassing educational system. This training has been the key devise in translating ideas into materialised objects which solve their societal problems. In similar vein, if Ghana adoptsa viable and sustained learning system which absorbs majority of children and youths, critical thinkers will evolve to help us diagnose social, economic, cultural and political structural problems within the Ghanaian context and save us the money of hiring expatriates as well promoting industrial innovations and welfare services.
Moreover, education promote civilisation. Developmental theorist like J.J. Rostow associates effective ways of organising societies to education. Education serves as the major conscious process of conditioning. This process helps in inculcating and internalising of national values and inter personal relations elements such as customer responsiveness, accountability, transparency, hard work, punctuality, patriotism, channel of communication, constitutionalism among others.
This knowledge passed on shapes the actions and inactions of citizens, political actors and state institutions to put their state first to enhance the common good of the people. In this respect, when conscious efforts are directed at positive indoctrination of the Ghanaian citizen, it will promote good working ethics and effective political participation among public servants and citizens respectively which in the long run prevent certain misfortunate eventualities like the likes the widespread of mob actions and existence of vigilante groups in Ghana.
Again, an inclusive and quality education serves a vehicle which promotes security of citizens. A well packaged learning process leads to the ignition of career preference, entrepreneurial skills, better opportunities, income equality, better life and personal sense of fulfilment. When this happens, majority of Ghanaian youths will have urge to innovate and invent machines and artefacts and achieve significant national development through their jobs and curb all forms of vices and violence.
In conclusion, I would applaud both private and governments initiates which has demonstrated strong commitment to the Sustainable Development Goal 4 which seeks topromoting global inclusive and quality education through building of more educational infrastructures and the various ways of making education accessible to all and also call on government to invest in all forms of education to translate and transform the country into her highest dimension as well as encouraging upcoming youths to form coalitions which seeks to alert governmental bodies about the spill overs of governmental education policies and educational problems across all parts of the country.