Nigeria: Journalist Arrested On New Year Day In Anambra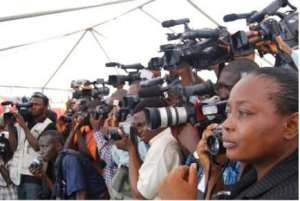 Exclusive reports from Anambra state this morning reveals that Mr. Daniel Elombah has just been arrested this morning in his house by men from Federal State Anti-Robbery Squad (SARS).
He was arrested and manhandled along with 4 his brothers and 2 other relations who were all in his house while they were watching President Muhamadu Buhari's new year address to the nation in his country home residence in Nnewi Anambra State.
An eyewitness who pleaded anonymity confirmed that the ace online publisher who resides in the United Kingdom was only home for the holidays only to become the latest victim of state brutality as he was almost bundled naked into the SARS vehicle and taken to an unknown destination.
"They are all in handcuffs Mr. Daniel Elombah, 4 of his brothers and 2 other relatives who were found in his residence have all been taken away along with him", the witness reported.
The eyewitness was able to confirm that there was heavy gunshots in his house probably to scare away any potential intervention from neighbors and that the SARS team even threatened to waste them if they resisted arrest.
One of the police officers on the ground said it was an order from above and that they don't know what offenses either Mr. Daniel Elombah or his brothers may have committed to warrant the arrest.
This probably confirms that the arrest of Mr. Daniel Elombah may have reportedly emanated from the Inspector General of Police as his personal effects, laptops and mobile phones including those belonging to his family members were all confiscated by the rampaging SARS officers who were allegedly seen jumping into Mr. Daniel Elombah's compound through the fenced walls by eyewitnesses.
It is worthy of note that this commando style of arrest by the SARS operatives who have recently been under severe scrutiny in recent times over several documented cases of intimidation, extortion, high handedness and in some cases extrajudicial state execution by the law enforcement agents have attracted strong criticisms from Nigerians prominent amongst them is Gov. Nyesom Wike of Rivers State, which has made the IGP to promise several sweeping reforms that will lead to the reorganisation of the Nigeria police special unit.
As at the time of filing this report Mr. Dan Elombah and his group have been moved away from SARS office at Nnewi as they are presumably being taken to SARS headquarters at Awkuzu, Anambra state.
Several questions are been asked at this moment by other prominent online media observers who wished to know what-what the Nigeria Police SARS is doing in a non-robbery matter. Could it be that Mr. Dan is now on the list of wanted person by Nigerian government over his nonpartisan, critical and objective outlook to happenings and events in the country from his diaspora perspective? Or is he being hounded because of the vociferous nature of his online website elombah.com which has been one of the most credible and reliable online platforms in the country today?
As it stands elombah.com is currently under attack and this is becoming a clear case of unwarranted media intimation as nobody knows which other online media platforms would be the next.
According to Daniel Elombah's wife, there was no prior notice or invitation from any government security agency before this invasion and subsequent arrest which indicates that this could clearly be another form of media intimidation by state authorities.
All we know is that Federal SARS picked him up this morning commando style, on the purported order from the IG of police.