When The Winners Seem To Forget: The Comment Of Napaga Tia Sulemana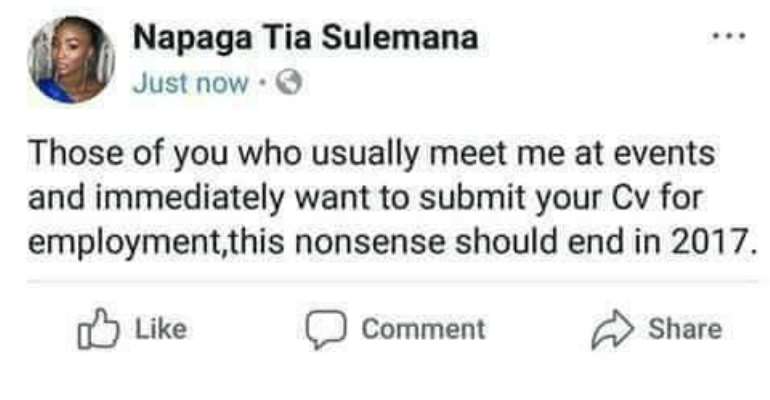 Our part of the world has made it permissible for a person to be easily seen as a sympathizer of a political party especially when the views of such person are constructively contrary to the incumbent party. I wish to state unequivocally that I do not write as a stalwart of any political party neither am I tied to the apron-strings of any political party. As the adage goes "the truth will always stink especially when vomited raw".
A perceptive individual who is a sympathizer of either the New Patriotic Party or the National Democratic Party and closely monitored the 2016 general elections will testify to the fact that disparaging and unnecessary comments by the erstwhile NDC contributed immensely to their heavy defeat.
The erstwhile government seemed to be too obsessed by the intoxicating beer of incumbency to such an extent that they never considered the fact that their disparaging comments which made the youth, social media and Ghana as a whole to go haywire could render them powerless.
Some young inexperienced ministers with their bad comments achingly contributed to the demise of NDC in 2016. Many citizens complained bitterly of these ministers who seemed to have no technical experience in administration. They suddenly became power-drunk because such greater heights caught them unaware. They knew exactly what to tell Ghanaians in order to fuel their blazing inexhaustible fury- thinking that the throne of governance was forever theirs. Little did they know that Ghanaians will be able to discern right from wrong, reality from fiction and mere hoax from palpable truth. Some ministers who were possessed by the possessing spirits of power under the erstwhile Mahama-led administration told nurses and teacher trainees to go and burn the sea if they can't come to terms with the cancellation of the allowances.
Instead of soothing their fury with heart-warming words, these ministers went ahead to tell the demonstrators that the red threads which they tied on their heads and hands during the demonstration were not visible enough to convince and compel the NDC to restore such allowances and that the students should rather dress in red from the crown of their head to the sole of their feet. Long story short, NDC was shown the exit during the 2016 general elections.
Hurray, we thought we had shown the vultures of bad comments the exit, not knowing that we have replaced them with hyenas and cheetahs of sharp comments with cynical intent. The president has made his stance clear that his government is for all. But I dare say that the recent comments of some officials in the NPP are making them to gradually toe the old line of destruction which has already killed and buried previous governments.
Early on, Ghanaians were slapped right in the face by the nauseating comment of Honourable George Ayisi Boateng, Ghana's ambassador to South Africa as he claimed that the members of the NPP are more Ghanaian than other Ghanaians.
The disdainful attack on the pride and dignity of northerners by the deputy minister of agriculture can also not be forgotten.
Recently, a presidential staffer, Madam Napaga Tia Sulemana is on record to have said that, 'those of you who usually meet me at events and immediately want to submit your CV's for employment, this nonsense must end in 2017'. The presidential staffer's comment begs the question that, 'if not at events, where else?' those at the grassroots' only opportunity is at events since they will not be allowed to even come closer to the flagstaff house. People bombarding her with their CV's should send a strong signal to her that people are still unemployed and are desperately in need of jobs in Ghana. Shouldn't it have been a golden opportunity to propagate the love of your party?
It is rather unfortunate and sickening to note that madam Napaga is already tired of the complain of the masses. The Honourable seems to forget that a spider's cobweb isn't only its sleeping spring but also its food trap and that, the president rode on the back of graduate unemployment to win power. Honourable, how can what you term as nonsense stop in 2018 when not all unemployed graduates are gainfully employed in 2017? Aluta continua!
Living in the lap of luxury, thriving on 14000 salary a month and driving in V8 which is fuelled and maintained by tax payer's sweat has soon made the presidential staffer to quickly forget the ordeal and agony of the unemployed graduates in Ghana. Our elders once retorted that 'those whose palm kernels were cracked for them by a benevolent spirit should not forget to remain humble'.
This administration should know better that certain comments polarize a nation. I am not a prophet of doom but if the tigresses and tigers of these disparaging comments are not tamed immediately, they will definitely cut short the aspirations of the NPP to remain in power for several years.
THE WRITER, EFFAH ELVIS IS A STUDENT OF UCC